Melbourne's hottest December start in 24 years

9News.com.au
6/12/2018
Melbourne is set to record the hottest start to December in 24 years with temperatures expected to reach 38C tomorrow.  
The city is tipped to hit a sweltering 35C today before rising again tomorrow amid gusts of between 25kmh and 40kmh.
A cool change is due to hit Friday and should offer some reprieve.
Some centres in the state's northwest, like Mildura, could surpass 41C in the next two days, according to the Bureau of Meteorology.
Initial forecasts for today and tomorrow were raised from the low to mid-20s after northerly winds persisted across the state.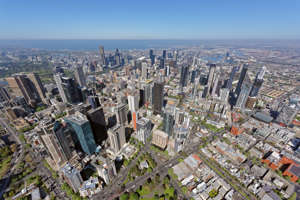 © Getty Melbourne. The state government has released a warning covers districts including the Mallee and Wimmera.
"The chief health officer has issued a heat health alert to notify you of forecast extreme heat conditions at or above heat health temperature thresholds," the statement read.
West and South Gippsland's grass pollen count has been rated as 'extreme' today with most of the rest of the state forecast as 'high.'
Melbourne's pollen forecast is 'moderate' today and tomorrow before returning to 'low' over the weekend.  
https://twitter.com/BOM_Vic/status/1070101325151698945
Today's temperatures around the state
Melbourne 35
Geelong 35
Mildura 40
Horsham 39
Bendigo 36
Shepparton 36
Seymour 35
Wangaratta 35
Warrnambool 36