Morrison calls for crackdown on social media after shooting live stream

9News.com.au
18/03/2019
Prime Minister Scott Morrison
will push for a global crackdown on social media at the upcoming G20 summit in the wake of the
Christchurch terror attack
.
Mr Morrison called for action in a letter penned to Japanese Prime Minister Shinzo Abe.
"It is unacceptable to treat the internet as an ungoverned space," Mr Morrison said.
© AAP Scott Morrison wants a crackdown on social media. "It is imperative that the global community works together to ensure that technology firms meet their moral obligation to protect the communities which they serve and from which they profit."
Mr Morrison will push for greater filtering and detection of violent or terrorist content, more transparency from online companies and great deterrence measures for those who facilitate extremist activities.
© AAP Prime Minister Scott Morrison. "We know that violent extremists use the internet for recruitment, radicalisation and to carry out their evil acts," he said.
"That they will continue to try and use any means at their disposal does not mean governments and technology firms should abrogate their responsibilities to keep our communities safe."
Mr Morrison's letter to Mr Abe was also sent to New Zealand Prime Minister Jacinda Ardern.
© AP/AAP New Zealand Prime Minister Jacinda Ardern. (New Zealand Prime Minister Office via AP) The alleged Christchurch terrorist, a 28-year-old from Grafton, NSW, livestreamed the attack on Facebook.
Despite efforts from the social media giants to contain the spread of the video, it has been viewed millions of times since Friday.

His lengthy manifesto showed evidence he had been radicalised online, including a series of running jokes popular on white supremacist forums.
© PA/AAP People pay their respect to the victims of the Christchurch mosques shooting. Former CEO of Facebook Australia Stephen Scheeler told Today that the social media giants should consider an end to live streaming services.
"They could turn this off tomorrow if they wanted to," he said.
© AAP An injured person is loaded in an ambulance following a shooting at the Masjid Al Noor mosque in Christchurch, New Zealand, Friday, March 15, 2019. Multiple people have been killed after a gunman opened fire at two mosques in the New Zealand city of Christchurch. (AAP Image/SNPA, Martin Hunter) NO ARCHIVING "There's no question these incidents have a disproportionate effect on the communities that they serve."
Yesterday Opposition Leader Bill Shorten said Facebook and Google need to do more to clamp down on extremism.
Pictures: Memorials and tributes to the New Zealand attack victims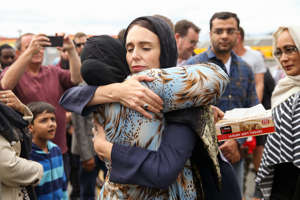 "There is no doubt that some people have seen to create a swamp of hatred within the internet and in social media," he said.
"And once you create a swamp of hatred you can't disown what crawls from out of that swamp."
A consortium of major companies in New Zealand have announced they will no longer advertise on Facebook.

Fifty people were killed in the mosque attacks, and many more remain in hospital.