Passenger 'dumped' on roadside as taxi drivers blockade Melbourne airport

9News.com.au
15/08/2017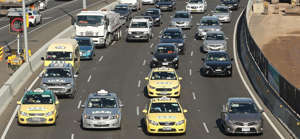 © Scott Barbour/Getty Images The drivers blocked the roads and refused to pick up passengers from about 9.30 last night, leaving passengers stranded. Angry taxi drivers have blockaded roads leading into Melbourne Airport's main forecourt, protesting against UberX being allowed to pick up and drop off passengers.
The drivers blocked the roads in protest from about 9.30pm last night, leaving passengers stranded.
The airport issued a statement confirming the blockade and urged passengers to arrive earlier than previously planned to allow for any delays.
"Anyone who's expecting to pick up an arriving passenger tonight, first check the Melbourne Airport website to see the most up to date flight information," the airport said.
"We're also recommending drivers head to the airport earlier than they might and to use the free Ring & Ride wait zone if they arrive with time to spare."
It suggested passengers arriving into the airport to take the SkyBus service into the city free of charge.
The airport warned passengers catching a departing flight this morning to head to the airport early and check its website for updates. People picking up others from arriving flights are also advised to leave earlier than usual and use the ring & ride wait zone.
The blockade ended close to 11pm and caused chaos for passengers, with one claiming on social media he managed to catch a taxi but was "dumped" on the roadside.
The blockade came 12 hours after it was announced UberX would be allowed to operate at the airport from today. Users will be able to be picked up from two approved wait zones after the Commercial Passenger Vehicle Industry Bill was passed through parliament last week.
The pick-up zones for terminals 1, 2 and 3 is in Lane 1 of the main terminal, while the Terminal 4 pick-up zone is along Departures Drive and the transport hub on Level 1.
Esther Demian from the Victoria's Taxi Action Group said the arrival of Uber "muscling in on the airport" would mean ongoing disruptions.
It is believed the protests may continue today.
When I finally got a taxi, he demanded cash, upfront prepayment... then dumped me on the roadside 1km from the airport. #Melbourne

— Kohan Ikin (@syneryder) August 15, 2017
There was another taxi, and he took out my bag, put it in the other taxi & there was a handover. I don't know wth was going on. #Melbourne

— Kohan Ikin (@syneryder) August 15, 2017
It's a game of Taxi Roulette at Melbourne Airport tonight with protest against Uber - always the innocent travellers affected!

— Claire R (@Kandi_Queen) August 15, 2017
Oh dear Melbourne taxis! You have now officially lost all remaining passengers to Uber! #melbourneairport #uber

— Racquel (@Racquello) August 15, 2017
Melbourne airport madness with taxi strike underway and roads blocked. Hot tip: head to the arrivals upstairs and grab a taxi there.

— Bouzy and Dizy (@BouzyandDizy) August 15, 2017