Second parliamentary job 'specifically created' for Joyce's girlfriend

9News.com.au
9/02/2018
It's been alleged a second parliamentary job was created for Deputy Prime Minister Barnaby Joyce's girlfriend after the first role was lost following Resources Minister Matt Canavan's resignation.
The creation of the role in Mr Canavan's office was authorised by Prime Minister Malcolm Turnbull, who also supported Vikki Campion's shift to National Chief Whip Damian Drum's office, the Daily Telegraph reports.
Ms Campion, 33, is reported to have undertaken the role of media adviser after Mr Canavan was forced out of office in the wake of the citizenship scandal – despite the role already being filled by another staff member.
Ms Campion's employment required a request for Mr Drum's staff allocation to be expanded from six to seven. That request required the prior approval of Mr Turnbull.
The role furthermore was not advertised and other candidates were not interviewed as part of the selection process, the newspaper said.
The claims comes just a day after it was alleged Resources Minister Matt Canavan specially created a job in his office for Ms Campion.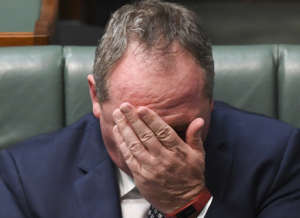 Yesterday Mr Turnbull said he was "not aware" of any inappropriate expenditure of public funds.
Mr Canavan issued a statement saying Ms Campion was "suitably qualified" for the role for which she was hired.
Mr Joyce is currently living with Ms Campion in Armidale, New South Wales, following the breakdown of his marriage of 24 years last year. The pair is currently expecting a baby.
The Telegraph reports the pair's affair – sparked when Ms Campion was initially a media advisor to Mr Joyce – and the dysfunction is caused prompted then-chief of staff Diana Hallam to quit.