Wentworth by-election: Kerryn Phelps still on track despite postal vote surge for Dave Sharma

9News.com.au
21/10/2018
Independent candidate Kerryn Phelps remains on track to win the Wentworth by-election, despite postal votes narrowing the margin between her and Liberal candidate Dave Sharma.
Dr Phelps claimed victory on Saturday night when she achieved an unprecedented swing of more than 20 percent against the Liberal Party in the eastern Sydney seat.
But that changed Sunday morning as the margin between the two narrowed to fewer than 900 votes while postal ballots were still being counted.
When counting finished for the day, Dr Phelps led Mr Sharma by 1626 votes with a little over 75 percent of the vote counted.
Prime Minister Scott Morrison holds out hope Mr Sharma could still snatch a win in the traditional Liberal Party stronghold.

Mr Morrison told reporters today the result was not final and would depend on the postal vote count.
But he said it was clear the electorate was furious about Mr Turnbull, who had been the member for Wentworth since 2004, being ousted as prime minister in August.
"Liberal voters expressed their anger at the parliamentary Liberal Party ... and we copped that fairly on the chin," Mr Morrison said.
"The events of two months ago angered and outraged many Liberals and particularly those in the seat of Wentworth."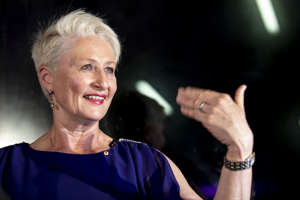 © Getty Dr Kerryn Phelps delivers a speech to her team and the media at the North Bondi Surf Lifesaving Club on October 20, 2018 in Sydney. If Dr Phelps is confirmed the winner, there will be a cross bench of six members in the House of Representatives, with Labor holding 69 seats and the coalition one short of a majority with 75.
She said running in the by-election was the "farthest thing from my mind" until Mr Turnbull was dumped as prime minister.
"Everywhere I went in the streets in the eastern suburbs, somebody would come up to me and say, 'Would you please have a run at Wentworth?'," Dr Phelps told the ABC today.
Dr Phelps says her first mission is to get refugee children off Nauru if she is confirmed to have won the seat. 

Dr Phelps told Weekend Today she would stick to her campaign promises.
"The things I was talking about during the campaign are really important - the big issues of national importance," she said this morning.
"For example getting kids off Nauru. That's first order of business. I don't think the Australian people can tolerate that position any longer."
Despite heading towards a minority government, Mr Morrison has talked up the coalition's relationship with the crossbenchers.
"What I will continue to do is be working closely with the crossbenchers, as I have been doing, because ... we have been at 75 (seats), not 76, since the former prime minister resigned," Mr Morrison said.
Reaction to the by-election result from crossbench members has been mixed, with Bob Katter and Rebekha Sharkie joining Dr Phelps in saying they would prefer to see the government run its full term.
Independent Andrew Wilkie said he would not guarantee confidence, while fellow crossbencher Cathy McGowan is yet to comment.
But Greens MP Adam Bandt said an election had to be called and the "the sooner we turf out this rotten government, the better".
Dr Phelps said she would set two priorities as a MP: action on climate change and getting asylum seeker children off Nauru.
She might also lend support for a national integrity commission that has been promoted by Labor, the Greens and crossbenchers for some time.