A Fox News anchor apologised after accidentally calling Trump a 'dictator'

Business Insider Australia
11/06/2018
Video provided Veuer
Fox News anchor Abby Huntsman apologised on Sunday after she accidentally referred to President Donald Trump as a "dictator" on Sunday.

Huntsman's gaffe occurred as Fox News aired footage of Trump arriving in Singapore for a summit with North Korean leader Kim Jong Un.
"This is history," Huntsman said. "We are living - regardless of what happens in that meeting between the two dictators, what we are seeing right now, this is history."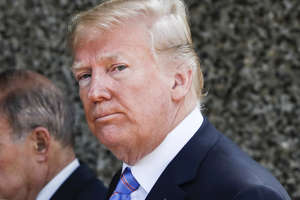 © Reuters US President Donald Trump. The mistake seemed to go unnoticed by former White House communications director Anthony Scaramucci, seated next to Huntsman. The anchor apologised later in the show.
"As you know on live TV, sometimes you don't always say things perfectly," she said. "I called both President Trump and Kim Jon Un a dictator. I did not mean to say that. My mistake, so I apologise for that."
Apologized on the show. I'll never claim to be a perfect human being. We all have slip ups in life, I have many :) now let's all move on to things that actually matter. https://t.co/k2hGjZcHRB

— Abby Huntsman (@HuntsmanAbby) June 10, 2018
The goof provided easy ammunition for Fox News critics, who often compare the network to state-run television found in dictatorships such as North Korea. Some Twitter users described the moment as a "Freudian slip."