REVEALED: What Williams said after US Open

Wide World of Sports
12/09/2018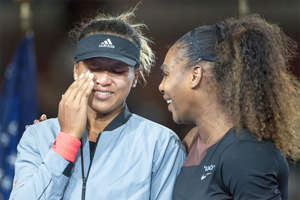 © Tim Clayton/Corbis via Getty Images Naomi Osaka in tears alongside Serena Williams after the women's final at the US Open. US Open women's champion Naomi Osaka has revealed that Serena Williams told her she was proud of her before reassuring her that fans weren't booing her after their controversial final at Flushing Meadows.

Osaka appeared on The Ellen DeGeneres Show following her maiden grand slam final win which was overshadowed by Williams becoming embroiled in an epic fight with umpire Carlos Ramos after being slapped with a game penalty for three code violations.
The ugly incident reduced Osaka to tears, with New York fans launching into a continual chorus of boos after Williams demanded an apology from Ramos after he penalised her for being coached from the stands before branding him a 'thief' for treating her differently to male players.
The furore only died down during the presentation ceremony after Williams pleaded with the crowd to stop booing, and Osaka revealed to DeGeneres what the former World No.1 said to her after leaning over to embrace her.

"She said that she was proud of me and that I should know that the crowd wasn't booing at me, I was really happy she said that," Osaka said.
"At the time, I did kind of think they were booing at me. I couldn't tell what was going on, because it was just so loud in there. It was a little bit stressful."
DeGeneres assured the softly-spoken Osaka, who is only 20 and admitted in the past that Williams was her childhood hero, that she was a deserved winner of the tournament.
The Japanese star said she tried to ignore the furore as it was unfolding around her because that was what she had been taught to do since she was a child.
"When you're little you're taught not to look if your opponent gets angry or anything," Osaka said.
"You're told just to turn around and try to focus so I tried to do that but in my mind I really wanted to know what was going on.

"(I didn't know what was going on) because I couldn't hear and I was looking away. I heard a lot of people in the crowd making noises and I really wanted to turn around but I didn't."
Pictures: US Open men's and women's singles champions through the years