Children of British Isis members will not be allowed to return to UK, government rules

The Independent
13/08/2019
Video provided by The Independent
Children of British Isis members stranded in Syria will not be allowed to return to the UK, the government has reportedly decided.
At least 30 British children are currently being held with their mothers in camps in northern Syria, after being detained as they fled the crumbling Isis caliphate.
The government has been under pressure to bring them home from the dangerous and overcrowded camps, both from local Syrian authorities and from the Trump administration. Earlier this year the infant child of Shamima Begum, the teenager who fled her home in Bethnal Green to join Isis, died weeks after arriving at one of the facilities.
© Provided by Independent Digital News & Media Limited The former foreign secretary, Jeremy Hunt, had said following the death that the government was working with then international development secretary, Penny Mordaunt, on whether the children could be safely returned.
But Sajid Javid, the former home secretary, concluded after a review that it would be too dangerous to send officials to retrieve the children from Syria, according to The Times — despite the camps being regularly visited by British aid workers and journalists.
A number of European countries have repatriated stranded children, however. France, Germany, Norway and Denmark have all brought a small number back, most of whom were orphans whose parents were killed during the caliphate's final months. Australia also recently brought home eight children and grandchildren of two Australian nationals who fought for Isis.
Pictures: What ISIS left behind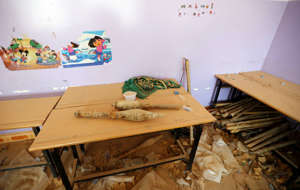 Some 70,000 women and children who fled the Isis caliphate in its last months are being held in camps by the Syrian Democratic Forces (SDF), a mostly Kurdish militia that defeated the terror group with US and UK backing. The largest of those facilities is al-Hol camp, which is currently housing some 11,000 foreign citizens. The SDF is also holding some 800 European Isis fighters.
Security services in the UK and around the world are concerned that citizens detained in Syria who still hold extremist views will eventually find their way back home. The British government believes that women can pose as significant a risk to national security as returning male fighters.
The decision to leave British children in a warzone was Mr Javid's made just before he left the Home Office to become chancellor, The Times reported. Mr Javid was also concerned that bringing the children home would provide the parents with a legal argument to return to the UK.
Kurdish authorities in charge of the camps said the decision was a "big mistake" that risks leaving children vulnerable to terrorist recruitment.
"If these children are not returned to their country, rehabilitated and reintegrated into their communities, they will all become future terrorists," Abdulkarim Omar, foreign affairs chief for the autonomous administration that controls the camps, told The Independent.
"These children were brought up in a terrorist environment and imbued with the terrorist ideology of Isis, especially children aged over eight years. Staying in the radical camp environment means creating a new generation of terrorists that will pose a threat to us and to the entire international community," he added.
The Home Office declined to comment directly on the reports.
A government spokesperson said: "Since 2011, the Foreign and Commonwealth Office has advised against all travel to Syria, and there is no consular support available to British nationals from within Syria."
Conditions at al-Hol were heavily criticised in a Human Rights Watch report released last month. During three visits to the area reserved for foreign women and children, the group "found overflowing latrines, sewage trickling into tattered tents, and residents drinking wash water from tanks containing worms".
"Young children with skin rashes, emaciated limbs, and swollen bellies sifted through mounds of stinking garbage under a scorching sun or lay limp on tent floors, their bodies dusted with dirt and flies. Children are dying from acute diarrhoea and flu-like infections," the report added.
The US-led coalition formed to defeat Isis has warned that a new generation of jihadis is being created in camps holding the families of Isis fighters.
In an exclusive interview with The Independent, Major General Alexus Grynkewich, deputy commander of the international coalition, described the potential for radicalisation in the camps as "the biggest long-term strategic risk" in the fight against the jihadi group outside of ongoing military operations.
"The anecdotal stories we have about some of the women with their children who were surrendering, if you will, is that there are hardcore Isis ideologues among them. We certainly have seen reporting from some of the partners who work in those camps that there is a fair amount of that ideology," he said.
In recent weeks, there have been a number of incidents in the camp which have caused alarm. In a video purportedly released by camp residents, the black flag of Isis was hoisted in the camp while women and children can be seen chanting Isis slogans. Guards are frequently attacked by extremists inside the camp.