Donald Trump Provokes Anger in Spain by 'Mocking' Prime Minister at G20 Meeting

Newsweek
30/06/2019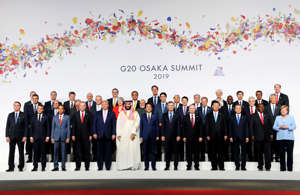 Spanish media outlets have reacted angrily to an apparent snub of Prime Minister Pedro Sanchez by President Donald Trump as the pair met at the G20 meeting in Osaka, Japan.
The incident occurred as Trump entered a meeting of G20 leaders and walked past Sanchez, who was preparing to take his seat.
The left-wing prime minister turned to greet the president, but Trump barely broke his stride before pointing Sanchez back to his seat and walking on. The president said something to the prime minister as he did so, but it was not clear what.
© BRENDAN SMIALOWSKI/AFP/Getty President Donald Trump arrives for a photo session at the G20 Summit in Osaka, Japan, on June 28, 2019. Sanchez then took his seat with a sheepish grin as Trump moved away towards his own seat.
The video quickly spread online, with Spanish publications interpreting the exchange as a snub of the prime minister. El Pais—the second most-read daily in the country—described the president as "mocking" Sanchez. El Periodico said Trump's gesture was "ugly."
Diario Patriota, an online news outlet, recalled an earlier awkward moment between the two leaders last Summer at the NATO summit in Brussels. The website said Trump had "humiliated" the prime minister, "barely looked" at him and "forced himself" to answer the Spaniard's greeting.
The prime minister is the leader of the Spanish Socialist Workers' Party, which pursues progressive center-left policies. Upon arriving in Osaka, Sanchez tweeted that the meeting is "a great opportunity for world leaders to take action on climate change, advance gender equality and manage globalization for the benefit of all."
It is only the first day of the meeting, but Trump is—true to form—already making diplomatic waves. He appeared alongside Russian President Vladimir Putin at the start of the summit, cracking jokes with the strongman leader despite reports linking his electoral victory to Kremlin disinformation and the geopolitical tensions between Moscow and Washington.
At one point, a reporter asked Trump if he would warn Putin not to interfere in the next presidential election, given allegations that Moscow directed a hacking and disinformation campaign to undermine the Democratic Party and help Trump into the Oval Office.
The president turned and pointed at Putin, and said, "Of course I will. Don't meddle in the election, please. Don't meddle in the election," as the Russian president laughed.
The two leaders also bonded over their mutual dislike of journalists and the free press. When discussing the media, Trump declared, "Get rid of them...Fake news is a great term, isn't it? You don't have this problem in Russia, but we do." His Russian counterpart smirked and replied in English, "We also have...It's the same."