Duchess of Cambridge faces Bafta dress dilemma as stars plan to wear black in protest

The Telegraph
2018-02-09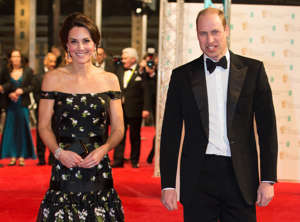 © Daniel Leal-Olivas/PA Archive/PA Images The Duke and Duchess of Cambridge attending the EE British Academy Film Awards held at the Royal Albert Hall, Kensington Gore, Kensington, London. Picking an outfit for Bafta is difficult enough for any woman. The Duchess of Cambridge will this year face a trickier dilemma than ever: to make a political statement in black or risk being the only woman in the room wearing colour.

The Duchess, who will attend this year's Bafta ceremony with the Duke, will be left in a diplomatic minefield, as actresses prepare to wear black dresses in support of the Time's Up movement.
A letter circulated to female nominees urges them to follow the example of the Golden Globes, to leave a room full of women in all-black as a "strong, unifying and simple statement".
The Duchess, who wore a patterned black evening gown to the ceremony last year, is not in the habit of public protest, in keeping with the Royal Family's policy of avoiding anything which could be construed as a political statement.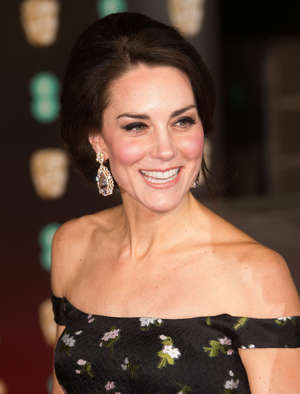 © Anwar Hussein/EMPICS Entertainment Catherine, Duchess of Cambridge, wearing a black off-the shoulder Alexander McQueen gown adorned with white flowers and large glittering earrings, arriving at the BAFTA Awards, held at the Royal Albert Hall, Kensington Gore, Kensington, London. At the Golden Globes, only a tiny handful of women chose not to wear black, leaving them standing out for, some critics argued, the wrong reasons.
Kensington Palace last night declined to comment on the Duchess' decision, ahead of the ceremony on February 18th.
Stars have not yet publicly promised to wear black on the red carpet, but Emma Watson all-but confirmed plans after tweeting a link to a news story about the campaign with the words: "Get ready BAFTA #TimesUp"
A letter to Bafta guests, published by film industry magazine Hollywood Reporter, spells out plans from a "collective of UK based female film and television industry leaders",  for a "physical and visual representation of our solidarity with people across all industries who have experienced sexual harassment and abuse or have been held back due to an imbalance in power".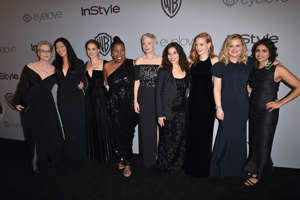 © Photo by Axelle/Bauer-Griffin/FilmMagic Activist Tarana Burke, actors Michelle Williams, America Ferrera, Jessica Chastain, Amy Poehler, Meryl Streep, Natalie Portman, activists Ai-jen Poo, and Saru Jayaraman attend the 19th Annual Post-Golden Globes Party hosted by Warner Bros. Pictures and InStyle at The Beverly Hilton Hotel on January 7, 2018 in Beverly Hills, California. It reads: "Here in the UK, more than half of all women and nearly two-thirds of women aged 18 to 24 have experienced sexual harassment at work.
"And we hope that those of us who are privileged enough to have a platform, can use it to raise awareness of the experiences of women beyond our industry, whose experiences are often silenced and marginalized.
"At this point, we are keeping things under wraps as the UK-side movement shapes up and we'll have some exciting plans to announce soon.
"We wanted to personally reach out to you at this point to let you know of the colour code and we will be in touch again with more information, including talking points on why we're wearing black."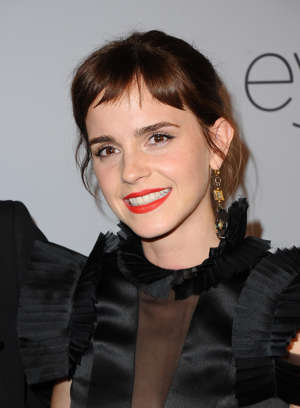 © (Photo by Jon Kopaloff/FilmMagic) Actor Emma Watson attends 19th Annual Post-Golden Globes Party hosted by Warner Bros. Pictures and InStyle at The Beverly Hilton Hotel on January 7, 2018 in Beverly Hills, California. The Baftas will take place on Sunday, February 18, at the Royal Albert Hall, London, hosted by Joanna Lumley.
Stars who could take part in a black dress protest include leading actress nominees Annette Bening, Frances McDormand, Margot Robbie, Sally Hawkins and Saoirse Ronan.
The best supporting actress category is made up of Allison Janney, Kristin Scott Thomas, Laurie Metcalf, Lesley Manville and Octavia Spencer.
Get ready @BAFTA #TimesUp https://t.co/GDLNSl9UH5

— Emma Watson (@EmmaWatson) February 1, 2018
Amanda Berry, CEO of Bafta, has previously indicated that awards organisers are braced for speeches about the Hollywood harassment scandal.

"It often has (been used as a platform) in the past, I think in different years there have been different issues," she said after nominations were announced.
"People obviously feel it's a very powerful platform. The film awards go out globally so that makes it even more powerful, so we never say to people don't say anything, please just thank the crew or whatever it is. "Because if somebody feels passionately about it, they are going to say it.
"There has been a lot of conversation to date and obviously that conversation continues, awards season shines a very bright spotlight on that conversation."