3 Brampton teens charged after series of armed carjackings, pharmacy robberies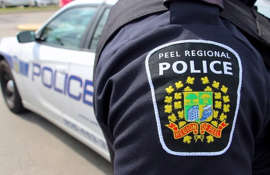 Three teenagers have been arrested by police in Peel Region and charged after a series of armed carjackings and pharmacy robberies.
Peel Regional Police said they received a call for an armed carjacking in the Balmoral Drive and Bramalea Road area of Brampton at around 10:15 a.m. on Thursday.
Police said three armed suspects with knives allegedly stole a white Toyota Corolla and fled the scene. Officers found the vehicle in Toronto and with the help of a tactical team stopped it and arrested the three suspects.
"Further investigation revealed the three suspects were also responsible for additional armed carjackings, retail and pharmacy robberies and robberies throughout the Greater Toronto Area," Peel police said.
Two teenage boys, aged 14 and 16, were arrested, along with a 15-year-old girl. All three are from Brampton, police said, and cannot be named under the Youth Criminal Justice Act.
They face charges including robbery and wearing a disguise. Investigators said they expect more charges will be laid as the investigation proceeds.