Toronto woman Danielle Moore killed in Ethiopian Airlines crash, family says

cbc.ca
2019-03-11
(Video provided by Global News)
A Toronto woman was one of 18 Canadians killed on Sunday when an Ethiopian Airlines jet crashed shortly after takeoff, CBC Toronto has learned. 
Danielle Moore was among the 157 aboard the Boeing 737 MAX 8 when it went down just minutes after leaving the Ethiopian capital of Addis Ababa on its way to Kenya. Authorities said the dead also included United Nations staff and people of at least 35 nationalities.
Chris Moore, Danielle's father, confirmed her death in a brief phone call from his home in Scarborough, but quickly hung up, saying the family was too distraught to speak further.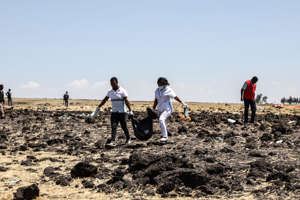 Moore, an activist who had been living in Winnipeg for several years, was on her way to the UN Environment Assembly in Nairobi.
Moore's brother, David Moore, said in a message on social media that she "always strives to make every community she is in, a great place."
Ethiopian authorities said the cause of the crash is still undetermined.
Also Watch: Andrew Scheer expresses sympathies to families impacted by Ethiopian Airlines crash (Video provided by Global News)