Alexandria Ocasio-Cortez: 'I Am as Powerful as a Man'

Newsweek
2019-03-04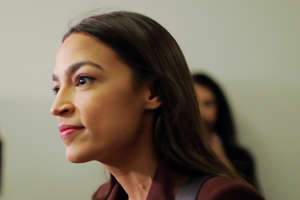 New York Representative Alexandria Ocasio-Cortez has reacted to a wave of conservative criticism in recent weeks, stating that attacks from GOP figures and the conservative media have been sparked by her gender. 
"I am as powerful as a man and it drives them crazy," the freshman Congresswoman told the editor of the New Yorker, David Remnick, after she emerged as the Republican party's bête noire over the course of the annual Conservative Political Action Conference last week.
Ocasio-Cortez was responding to comments made by a writer for the feminist news outlet Jezebel, who said women in politics are characterized as either "hideous harpies" such as Hillary Clinton or "pretty idiots." "To her critics, Ocasio-Cortez is firmly in the pretty idiot category," Jezebel writer Ashley Reese said.
In the New Yorker interview, Ocasio-Cortez said she agreed with the comments. "I feel like I predicted it from day one," she said. "The idea that a woman can be as powerful as a man is something that our society can't deal with."
Ocasio-Cortez, who worked as a bartender and waitress at a taco restaurant before leading an upstart campaign to win the race for New York's 14th Congressional District, said that virtually every aspect of her background was offensive not just to the GOP establishment but to President Donald Trump.
"I can see Trump being enormously upset that a 29-year-old Latina, who is the daughter of a domestic worker, is helping to build the case to get his financial records. I think that adds insult to injury to him," she said.
The congresswoman, who now sits on the House Oversight Committee, was seen as making a star turn while questioning Trump's former personal lawyer Michael Cohen last week. Her line of inquiry appeared to be laying the groundwork for subpoenas to be issued by the committee, requesting the president's closely guarded tax returns.
Beyond her role in the explosive questioning of Cohen, Ocasio-Cortez has become a lightning rod for Republicans' criticism since she launched the Green New Deal with other progressive Democrats last month. The bold initiative seeks to eliminate greenhouse gas pollution in the United States over the next decade.
As part of the initiative the congresswoman has said emissions from factory farming will have to be addressed. The move has caused some commentators to say Ocasio-Cortez wants to ban hamburgers. Former Trump advisor Sebastian Gorka told the Conservative Political Action Conference last week: "They want to take your pickup truck! They want to rebuild your home! They want to take away your hamburgers! This is what Stalin dreamt about but never achieved!"
Ocasio Cortez has rebuffed the criticism with typical humor. "Apparently, I am a cow dictator," she told the New Yorker. "I've got a full-time job in Congress and then I moonlight as America's greatest villain, or as the new hope. And it's pretty tiring. I'm just a normal person," she added.