Ryder Cup fan whose eye exploded when hit by golf ball blames organisers and says she could have been killed

Evening Standard
2018-10-04
(Provided by Reuters)
A spectator whose eyeball exploded when she was struck by a golf ball at the Ryder Cup has said she could have been killed.
Corine Remande was hit in the eye when a stray tee shot veered into the crowd on the opening day of the tournament. It left her blind in her right eye.
© Provided by Local News RSS EN-GB She claimed there was no warning that the ball had flown off the course after the tee shot from American Brooks Koepka.

The 49-year-old blamed organisers for the shocking incident and said she could have died if the ball hit the side of her head.
Ms Remande told BBC Sport: "For me, it's finished. I could not speak with you.
© Provided by Independent Digital News & Media Limited BrooksKoepkaRydercup3.jpg She added: "I hope that with this terrible accident to improve this kind of safety for the public."

"The doctor said immediately to my husband that it was a very big explosion in my eye and it was impossible for me now to see again with this eye.
"I don't know how to live with only one eye. I like walking, sport, going to the gym and playing golf."
© Provided by Independent Digital News & Media Limited corine-remande-324v.jpg Mrs Remande is reportedly planning legal action against Ryder Cup organisers, saying course officials did not give adequate warnings.
Koepka said in a statement on Twitter that he was "deeply hurt and saddened" by the incident.
He also addressed what happened in a press conference on Wednesday, saying he was "torn up about it".
October 2, 2018
"Yesterday was probably one of the worst days of my life," Koepka said. 

"I haven't had too many tragedies in my personal family where there's been a loss or any kind of tragic accident so I've been lucky in that sense.
"I wasn't told until I got to the course - I'm not the biggest person on social media - so when I got here and had about seven missed calls and 25 text messages I was like, 'What's going on?'. 
© Provided by Independent Digital News & Media Limited .jpg "Then I was told the news and obviously I am really heartbroken. My stomach sank."

He added: "It's sad and I really am torn up about it."
Video: Koepka 'heartbroken' over wounded fan (Sky Sports)
In Koepka's statement on Twitter, the reigning US Open and US PGA champion said he was "heartbroken".
He said he had been in contact with Remande's family to offer his "heartfelt sympathy".
The European Tour has said it will offer her "support for as long as necessary".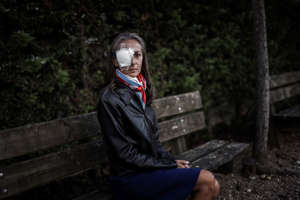 © Getty Frenchwoman Corine Remande, 49, poses on October 3, 2018 in Lyon after she said she was taking legal action against the golf Ryder Cup event's organisers after being hit and lost sight in her right eye on Friday's opening day, when Brooks Koepka's drive on the par-four sixth hole careered into the crowd at Le Golf National, near Paris. (Photo by JEFF PACHOUD / AFP) (Photo credit should read JEFF PACHOUD/AFP/Getty Images) A Ryder Cup spokesperson added: "Ball strikes are an occasional hazard for spectators, but this kind of incident is extremely rare. 

"We can confirm that 'fore' was shouted several times, but also appreciate how hard it can be to know when and where every ball is struck if you are in the crowd.
"We are hugely sympathetic and will do everything we can to support the spectator, insofar as that is possible under very difficult circumstances."
Europe captain Thomas Bjorn said: "It's terrible, it's a freak accident that's happened, and all our thoughts are with her."