Older parents just as likely as millennial parents to text while driving and have a crash

The Independent
13/05/2019
Older parents are just as likely as millennial-aged parents to text while driving, a new study has revealed.
According to the National Highway Traffic Safety Administration (NHTSA) in the US, nine people are killed and more than 1,000 injured each day in incidents involving a distracted driver.
The organisation suggests that texting while driving may be the reason behind the recent rise in car crash-related fatalities, which it states are the top cause of death children and young adults.
In a bid to understand the rise of crashes related to distracted driving, researchers from Brigham and Women's Hospital in Boston, Massachusetts, compared the texting and driving patterns of different generations, specifically among parents.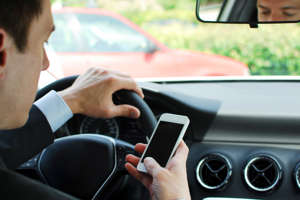 They found that while millennials are typically associated with "significant" mobile phone and technology use, parents in this age group were just as likely to text while driving as older parents.
The study involved questioning 435 parents (225 millennials and 210 older parents) from 45 different states in the US using a validated survey known as the Distracted Driving Survey (DDS).
The questions centred around text message reading and writing, use of email, social media and maps while driving, and speed while performing these tasks.
Overall, millennials had higher DDS scores (eight compared to six) and were more likely to read text messages while driving compared to older parents (42.2 per cent compared to 26.7 per cent] – something the researchers state "reflects more reckless behaviour".
However, the data also showed that there was no significant difference between the two age groups in terms of writing texts or crash rates (16.1 per cent for millennial parents and 10.1 per cent for older parents) associated with distracted driving.
© Provided by Independent Digital News & Media Limited image "We found that millennial-aged parents reported riskier distracted driving behaviour than older parents, although distraction was prevalent in both age groups," said Regan Bergmark, lead author on the study.
Bergmark added that she believes parents know the risks of distracted driving, revealing that more than half of those surveyed said they drove more safely when they had their children in the car.
"We believe there is an opportunity to change behaviour by engaging with parents more directly through their children's paediatrician about distracted driving and having apps or programs that people can commit to using," Bergmark explained.
"Parents may be worried about being unreachable in emergencies, but this should be a challenge technology can help solve."
The study comes just days after former footballer David Beckham was banned from driving for six months and given a £750 fine after he admitted to using his phone while driving in November.
The former England captain was given six points on his licence, and due to the existence of six previous points for two speeding offences, banned from the roads until November.
The team's results are published in JAMA Paediatrics.
MSN UK are Empowering Happiness for mental health awareness month. Find out more about our campaign and the charities working to stop people falling into crisis here.
Gallery: The greatest car gadgets there's ever been (Auto Car)