UK's road rage capital revealed

Read Cars
15/03/2018
Leeds has the angriest motorists in the UK, according to new research.

A study of 2,000 drivers conducted by the Accident Advice Helpline found that 65% in Leeds have suffered anger on the roads, with nearly one in 10 saying it happens "often".
Seven in 10 in the West Yorkshire city also admit shouting at other drivers, and one third confessed to making rude hand gestures. By contrast, Sheffield was found to be the city with the fewest incidences of road rage, with 46% saying they had "never" lost their temper.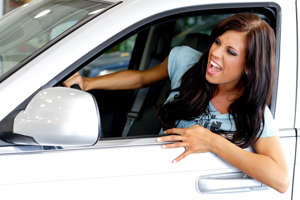 Top 10 UK cities for road rage
1) Leeds
2) York
3) Newcastle
4) Liverpool
5) Glasgow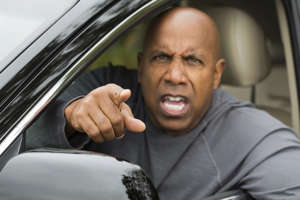 6) Birmingham
7) Cardiff
8) London
9) Leicester
10) Bristol
Across the UK, the average road-related temper tantrum lasts just for a few seconds, but it can take more than four minutes to calm down afterwards.
The peak time for fuming road users is 12:54pm, during the lunchtime rush – unless you're in Leeds, in which case the roads are best avoided between 8-9am and 5-6pm.
Road rage is NEVER acceptable.

this video has been published today where a male smashes a window following aggressive tailgating.

This car contained a Mother, Father, a 6 year old boy and a unborn child.

This will have caused mental distress to all involved.#DriveSafely pic.twitter.com/SUHysjiZt9

— Road Safety UK (@RoadSafetyUK) March 14, 2018
Women were found to be slightly more prone to road rage than men – with 60% admitting to getting wound up while driving, compared to 56% of men.
Someone cutting across lanes unexpectedly was revealed as the most common cause of road rage, with 66% picking it as their top driving bugbear.
This was followed by motorway tailgaters flashing their lights to move you out of the way, and seeing someone on their mobile when driving.
Top 10 reasons for road rage
1) Someone cutting you up
2) People who tailgate you and flash lights on the motorway to get you to move over
3) Seeing someone on their mobile when driving
4) Someone not indicating when turning left or right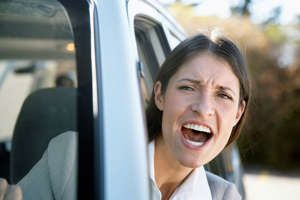 5) Someone not indicating when changing lanes
6) Someone not indicating when using a roundabout
7) People who sit in the middle lane on the motorway
8) Someone parking over two bays in a car park
9) People who slam on their brakes at the last minute to change lanes
10) Someone parking in a disabled bay when they aren't disabled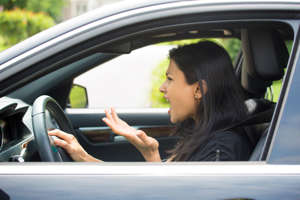 "It's very easy to get frustrated while driving – it happens to nearly all of us at some point," said Accident Advice Helpline's David Carter.
"But road rage can end up being really dangerous. If you experience a bout of road rage you may end up driving more erratically than whoever annoyed you in the first place.
"Our study found motorists take almost 10 minutes after a road rage incident thinking it over in their minds, which could leave them dangerously distracted."
Follow us on Facebook and on Twitter
Related: Top 20 most dangerous places to be a driver