What is one-pedal driving and how does it work?

Motoring Electric
17/01/2022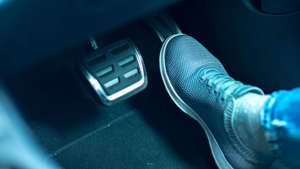 Being able to drive with one pedal is a brilliant benefit of electric cars. In most situations, instead of using the brake pedal (don't worry, you still get one), simply lifting off the accelerator will slow the car down sufficiently.
You can modulate this effect by not full removing your foot from the pedal, so you don't get the full braking force.
Alternatively – when approaching a red traffic light, for example – you can coast to a complete stop without using the brake at all.
Why use one-pedal driving?
One-pedal driving works by using the regeneration effect of the car's electric motor. This can run in reverse, switching from a motor to a generator. The friction slows down the vehicle and creates electricity at the same time.
So-called regenerative braking can help recharge the car's batteries, and offer you a bit of extra range. It won't make a massive difference, but it's something many EV motorists get used to and value. It also makes driving easier, particularly around town.
One-pedal driving doesn't suit every situation. On a motorway, you may not want a braking effect every time you lift off in the ebb and flow of traffic. The ability to coast down a long motorway incline is lost, too.
However, there is always the option to switch the system off – and often to vary the amount of braking as well. The Honda e, for example, has paddles behind the steering wheel that allow three levels of regenerative braking, according to your preference.
The Nissan Leaf, meanwhile, has a dedicated 'e-Pedal' button on the dashboard for one-pedal driving. This increases the amount of deceleration – and thus energy regeneration – when you lift off.
Not every electric car offers the option to drive with one pedal. It's increasingly common, though – and also fitted to many hybrid and plug-in hybrid cars.
How easy is one-pedal driving?
It's different, certainly. But even if your car is equipped with a one-pedal system, you can always switch it off and use the brake pedal in the traditional way.
The reality, though, is that within half an hour, you will probably have acclimatised to one-pedal driving and enjoy its benefits. Once you have the technique mastered, we reckon you'll use it on most journeys.
ALSO READ:
What is electric car preconditioning and why is it important?
What is regenerative braking – and why do electric cars use it?
Can you trust the quoted range of electric cars?
The post What is one-pedal driving and how does it work? appeared first on Motoring Electric.