A History Of The Obamas In Hollywood
Refinery29
23/05/2018
My favourite running joke about Barack and Michelle Obama since they've officially left the White House as POTUS and FLOTUS is that they "broke up" with America. It's funny because it feels so hilariously accurate. After last year's transition of power, supporters have been collectively mourning the loss of their leadership like a scorned lover, still not over the heartbreak. We stalk their Instagram accounts, longing for comfort when we spot them on vacation. We wish that we could turn to them in times of need like the good ol' days, but those days are long gone.
Now, we are confronting another post-split phenomenon: watching them move on and effectively glow up right before our eyes. Netflix announced earlier this week that the Obamas just inked a multi-year production deal with the streaming giant. It includes the Obamas producing "films and series for Netflix, potentially including scripted series, unscripted series, docu-series, documentaries, and features." While both parties have been mum on the financial details, I think the words of wise woman Cardi B. would sum it up quite nicely, "hope you hoes know it ain't cheap."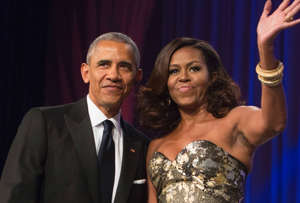 This is a far cry from the memoir and late-night circuit package that seems more appropriate for a political family making its way off of the national platform. In fact, it's a step off of one national stage onto another, in front of a much larger audience. With this deal, the Obamas are abandoning any pretence of a quiet, private life and leaning into a pop-culture legacy that was in the works long before the 2016 election. They have a rich history with Hollywood's elite — Barack has provided commentary for sports documentaries and announced the American Idol winner in 2016; Michelle has appeared on everything from iCarly to NCIS. That could have predicted their Netflix partnership if only we had paid more attention. Let's take a look at these receipts to pinpoint the exact moment when our old flames began courting their new boo: the entertainment industry.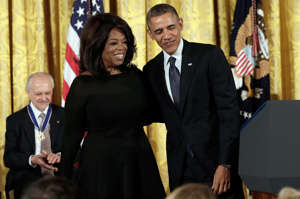 © Getty File photo: U.S. President Barack Obama (R) awards the Presidential Medal of Freedom to Oprah Winfrey (C). 2006: Oprah endorses Barack Obama for president and becomes one of their BFFs
The truth of the matter is that the Obamas were always too good for us. Before he even announced his candidacy, Oprah appeared on Larry King Live and told a fan who wanted her to run for president to "take all your energy and put it in Barack Obama."
She would remain a supporter and friend of the first family throughout their entire tenure in the White House. Honestly, I could stop writing now because in the world of entertainment, all things are possible through Oprah, who strengthens it. But to humour you, I'll continue this painful look at all the awesome things that made it easier for the Obama's to escape to Hollywood.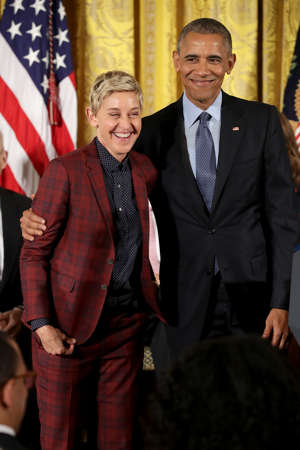 © Getty Barack Obama and Ellen DeGeneres 2007: The Obamas become BFFs with Ellen DeGeneres
The former First Lady and her husband have both had some of their most memorable television moments with Ellen. Michelle Obama famously went to CVS with the talk show host, and they bickered about who was actually better friends with Oprah. We were no competition for these kind of acquaintances.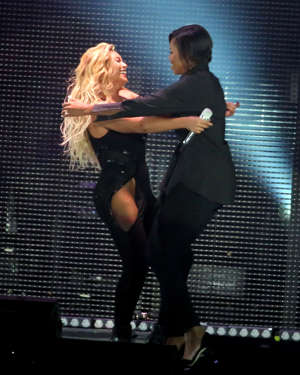 © Getty Beyonce and Michelle Obama hug during the 2015 Global Citizen Festival at Central Park on September 26, 2015 in New York City. 2008: The Obamas become friends with Beyoncé and Jay-Z
No matter who the official first family is in the White House, the Knowles-Carters will always be the king and queen on this side of the pond. Together, the four of them are arguably the most powerful pact in the world. We never stood a chance.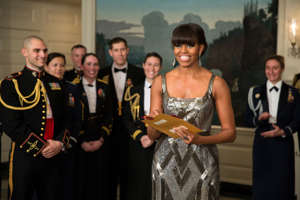 © Getty In this handout provided by The White House, First lady Michelle Obama announces the Best Picture Oscar to Argo for the 85th Annual Academy Awards live from the Diplomatic Room of the White House February 24, 2012 in Washington, DC. Obama revealed the award via satellite for the live show being held in Los Angeles. 2013: Michelle Obama announces the Best Picture winner at the Oscars
Never mind the fact that the movie was Argo. The Academy has been extending its warm arms to our former first family for years.
2014: Barack Obama sits Between Two Ferns with Zach Galifianakis
Galifianakis was sent undercover to further court the Obamas for this Comedy Central series. It was just the right amount of low-key star power.
2016: Two movies are made about the Obamas
Because one film isn't enough. Barry and Southside With You were both released this year.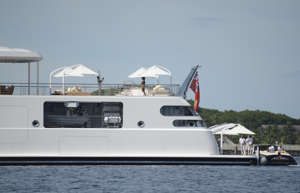 2017: The Obamas island hop with A-listers
Shortly, after breaking up with us and departing the White House, Barack and Michelle were spotted yachting with Oprah, Tom Hanks, and Bruce Springsteen.
2017: Malia Obama interns for The Weinstein Company
Before news broke that he was an alleged sexual predator, the eldest Obama daughter interned at one of the most notable production companies in the industry, not at a regular old civilian company.
2018: The Obamas sign to Netflix
It's still unclear if the Obamas are going to appear in any of the projects they are producing for Netflix. If so, this may be the reconciliation with America that we've all been journaling about. There is nothing wrong with holding on to some hope. 
Provider: The Obama family: Life after the White House (GES)