Demi Lovato Fired Her Sober Coach Before Apparent Overdose

US Weekly
26/07/2018
Demi Lovato fired her sober coach days before she was hospitalized on Tuesday, July 24, for an apparent drug overdose, multiple sources tell Us Weekly exclusively.
"She would only maintain sobriety for a few days at a time before relapsing," one source says. "She refused to go back to treatment [before her overdose]."
Prior to her latest health scare, the 25-year-old singer was on the outs with her former life coach Mike Bayer. A source told Us earlier this month that the pair were "no longer in any communication," and confirmed that Lovato was referencing Bayer in her July 6 tweet that read, "Good luck on your blog."

© INSTAR Images demi-lovato-sober-coach-fired The Los Angeles Police Department confirmed to Us on Tuesday that authorities responded to Lovato's home in Hollywood at 11:37 a.m. According to dispatch audio obtained by TMZ, she was unconscious when paramedics arrived. A source told Us that she was treated with Narcan, which is used to reverse the effects of a narcotic overdose.
"One of her friends had Narcan on hand in case something like this happened. Her friends knew this was coming because she's been using so much again," a second source told Us exclusively. "The friends acted very quickly and saved her life."

Another source disputed reports that Lovato overdosed on heroin.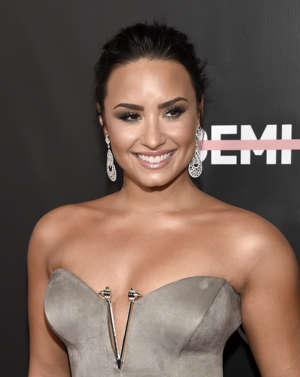 © Chris Pizzello/Invision/AP Demi Lovato arrives at the Los Angeles premiere of "Demi Lovato: Simply Complicated" at the Fonda Theatre on Wednesday, Oct. 11, 2017. (Photo by Chris Pizzello/Invision/AP) A rep for the Disney Channel alum provided an update later on Tuesday. "Demi is awake and with her family who want to express thanks to everyone for the love, prayers and support," the rep said in a statement to Us. "Some of the information being reported is incorrect and they respectfully ask for privacy and not speculation as her health and recovery is the most important thing right now."
Lovato celebrated six years of sobriety in March, but revealed three months later that she had relapsed. In her song "Sober," she sang the lyrics, "Mama, I'm so sorry I'm not sober anymore / And Daddy, please forgive me for the drinks spilled on the floor."
The "Heart Attack" singer previously spoke candidly about her past struggles with addiction, bipolar disorder, self-harm and an eating disorder in her 2017 YouTube documentary, Simply Complicated.
Related: Celebs offer well wishes to Demi Lovato following suspected overdose (Provided by Wonderwall)