Melissa McCarthy Is The Latest Celebrity To Eschew The Likeable Woman Narrative
Refinery29
10/01/2019
The pressure for women to be "likeable" — both onscreen and in real life — is something Hollywood stars have long discussed. Carey Mulligan recently called out "sexist" criticism of her character in Wildlife for suggesting women shouldn't have a full range of (sometimes negative) emotions. Megan Fox claimed she felt she could not express her own #MeToo stories because she was not perceived as "sympathetic" or likeable enough. Now, Melissa McCarthy has spoken out about the many ways reporters have used likeability as a weapon against her.
Download the Microsoft News app for your Android or iPhone device and get news & live updates on the go.
In a new interview for InStyle 's February cover , the Can You Ever Forgive Me? star revealed a reporter once asked her why she always felt the need to be "so grotesque" during a press conference.
"[The reporter] goes, 'You look sloppy, you're not wearing any makeup, your hair is not done, you're yelling at people.' I was like, 'Okay, so have you ever asked this of a guy? I'm playing a character. You need to get out more if you don't think there are real women like that.'"
She added that the pressure to seem "pleasant" made it hard to defend herself.
Explained McCarthy, "I thought if I tell him to eff off, he will win on every possible level."
McCarthy also told the outlet about another inappropriate question asked of her by a different, allegedly very high-profile reporter. She said, "I do remember another interview I did for Bridesmaids with somebody who later lost his job for a conversation he had on a bus with someone else. I won't mention names, but just think about it. He kept asking, 'Are you shocked that you actually work in this business at your tremendous size?'"
When she didn't answer the question directly (because, umm, she shouldn't have to), the reporter apparently couldn't believe it.
"He was looking around like, 'She's crazy,'" McCarthy told InStyle of the interaction.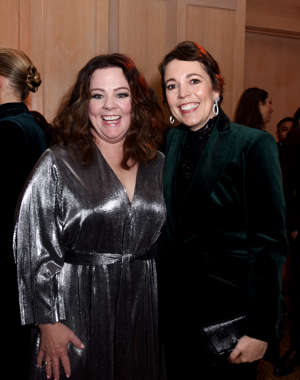 Ultimately, McCarthy realised the line that many women need to walk, between standing up for themselves, and being seen as likeable.
"I think there is a weird layer in the world [for women] where it's not just about looks but it's also, 'Are you pleasant? Do you not make trouble?'" McCarthy told the magazine. "I don't want to be around someone who's a pain in the ass and confrontational, but I also don't think that you always have to be Stepford Wife-y and can't have opinions."
McCarthy has been generating Oscar buzz for Can You Ever Forgive Me?, a biopic about the writer Lee Israel. Israel was notably not likeable — she plagiarised for years — which makes the role that much more important. Here's to McCarthy's Oscars chances!
Related: Melissa McCarthy and more comedic actors who shocked us with serious roles [Wonderwall International]