John Lewis unveils its Christmas advert for 2017 as Moz The Monster comes out from under the bed

Evening Standard
10/11/2017
John Lewis has unveiled its latest Christmas campaign advert that features a young boy who befriends a scruffy monster who is sleeping under his bed.
The two-minute advert, set to a cover of Beatles track Golden Slumbers by Elbow, tells the story of Joe - who realises a snoring and farting 7ft imaginary monster called Moz lives under his bed.
Joe - who is played by seven-year-old London twin brothers Tobias and Ethan - befriends Moz and the pair get up to mischief, playing in the boy's bedroom in to the small hours.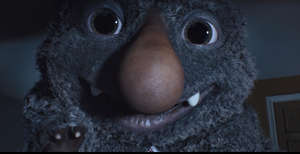 © Evening Standard After a number of sleepless nights, Joe keeps falling asleep during the day. So Moz decides to give him a night light, which when illuminated makes the monster vanish meaning Joe can sleep undisturbed.
But as the advert comes to an end with the tagline "For gifts that brighten up their world," viewers soon realise when Joe turns off the night light, Moz returns - meaning they can remain friends. 
The video, which was directed Michel Gondry who won an Oscar for his work on Kate Winslet movie Eternal Sunshine of the Spotless Mind, will be released at 8am on Friday - and we will have it with this story.
It will be shown on television on Friday evening at around 9.30pm on Channel 4 during Gogglebox. It will also be shown at a similar time across all Sky channels.
Craig Inglis, John Lewis's Customer Director, said: "This year's Christmas campaign brings to life the power of children's imaginations and the joy of great friendships. Moz and Joe's story is magical and heartwarming and I'm sure it will be loved by all of our customers, young and old."
Gondry added: "When I told my ex girlfriend I was doing the next John Lewis Christmas film she said: You have big shoes to fill, this John Lewis commercial must make people cry, don't forget. Last week I showed it to her and she cried. Phew."
© Provided by Evening Standard Limited Twins Tobias and Ethan star as character Joe Guy Garvey, lead singer of Elbow, said: "This project was such a pleasure. Michel Gondry and The Beatles did all the work for us. We are really proud to be involved."
The Moz The Monster campaign was created by advertising agency adam&eveDDB, a long-standing creative partner of the retail giant.
The agency was worked with John Lewis on almost all of the previous Christmas adverts - including 2016's Buster the Boxer, Man On the Moon in 2015 and Monty the Penguin in 2014.
Teasers for the video began appearing on social media earlier this week - with short clips of a pair of eyes in the dark being posted online with the tag #UndertheBed.
The reveal came hours after eagle-eyed shoppers at John Lewis Canary Wharf spotted a selection of cuddly toy monsters on sale in store as early as Tuesday - leading some to speculate the retailer had accidentally put the range on sale days too early. 
As part of the campaign, the flagship Oxford Street store will also give visitors the chance to meet Moz - in his very own house built in the toy section of the shop.
On Facebook people will be able to "mozify" their face using their Facebook camera, and in 10 shops customers will be able to create their own monster selfie at a Monster Maker station.
There is also a range or merchanise, with proceeds going to Barnardo's.
The Elbow single will be released as part of the band's Best Of album, released on 24 November.
My reaction
John Lewis have found a winning formula for their adverts. All follow the loose theme of how giving brings joy at Christmas. And - other than 2015's Man on the Moon - they have mostly covered the story of a child and some sort of animal set to the soothing tones of a noted artist singing a cover track.
Much like the poor boy he keeps awake at night, Moz the Monster feels a bit tired. While undeniably sweet, Moz is a bumbling character that you can't not love, we have seen it all before. The monster is - really - a hairier version of Monty the Penguin, the CGI star of a few years ago. 
Of course, the general idea is heart-warming and festive.
But it would be nice for John Lewis to shake up the formula for 2018. 
Never miss an important story, Follow us on Facebook, and on Twitter