2020 Is Tough, But These Comedy Films Are Guaranteed To Make Life A Bit Better

Esquire (UK)
23/01/2020
Yes, life's tough in 2020. But there's always something to look forward to, for example, the slew of very funny, very excellent looking comedy films that are scheduled to land this year.
Will Ferrell in a mullet, Wes Anderson assembling his greatest cast yet and an unofficial spin-off from The Big Lebowski. Plus at least three sightings of William J Murray. When it comes to comedy films, there's a lot to look forward to at the dawn of the new decade.
You never know, they might even make you forget about Brexit. 
Gallery: Rotten Tomatoes' top 100 movies of all time (Photos)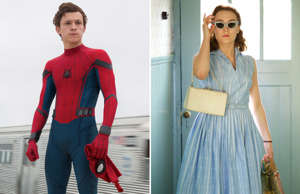 Uncut Gems
© getty HOLLYWOOD, CALIFORNIA - DECEMBER 11: Adam Sandler (R) and Jackie Sandler attend the premiere of A24's "Uncut Gems" at The Dome at Arclight Hollywood on December 11, 2019 in Hollywood, California. (Photo by Rachel Luna/WireImage) The year kicked off with a film that's funny when it's not terrifying (well, January is awards season). Uncut Gems sees Adam Sandler playing a fast-talking gems dealer and gambling addict trying to pull off a series high-stakes bets, putting everything on the line in the process. Sibling directors Josh and Benny Safdie (Good Time) wanted to shine a light on the energy and insanity of New York City's Diamond District. They have certainly done that and more.
Uncut Gems is out now
The Jesus Rolls
© Getty John Turturro attends the red carpet during the 14th Rome Film Fest at Auditorium Parco Della Musica on 17 October 2019. (Photo by Giuseppe Maffia/NurPhoto via Getty Images) Yes, one of modern cinema's most memorable cameo characters – Jesus Quintana, the creepy and eccentric bowling obsessive in the Cohen brothers' cult favourite The Big Lebowski – is getting his own spin-off movie. It's definitely not a sequel, but the film's director, star and driving force, John Turturro, has apparently been given the Cohens' blessing for what looks a suitably eccentric tale, shadowing Jesus on a series of misadventures after leaving jail. A pretty stellar indie cast including Audrey Tautou, Bobby Cannavale, John Hamm, Susan Sarandon and Christopher Walken also feature in this offbeat road movie. You can get some sense from the above trailer, although it helps if you speak Italian – the film had its festival debut there last year, which means this dubbed version is all that's out there. For now.
The Jesus Rolls has a UK release date of 20 March 2020
Free Guy
You know those background characters in video games like Grand Theft Auto who just walk around their virtual world minding their own business (at least, until you decide to run them over in a tank)? Well it's these bit-part pieces of code that have inspired the plot for Free Guy. Ryan Reynolds plays a simple, stuck-in-a-rut bank teller who realises he is in a video game and decides he wants to be the hero. Also starring Killing Eve's Jodie Comer and everywhere-right-now Taika Waititi (What We Do in The Shadows, Jojo Rabbit), it will be interesting to see how this particular high-concept idea plays out in the real world.
Free Guy has a UK release date of 3 July 2020
Ghostbusters: Afterlife
Jason Reitman, the writer/director behind the brilliant Thank You For Smoking and multiple-award-winning Up In The Air, has turned his hand to a Ghostbusters sequel. Which is apt, considering his father Ivan directed the first two. The new film picks up 30 years after Ghostbusters 2, and follows family's move to a small town where they discover their grandfather's link to the original Ghostbusters story. It stars a bunch of the young Stranger Things cast, the preternaturally young-looking Paul Rudd, and the old crew, including Bill Murray, Dan Aykroyd and Sigourney Weaver.
Ghostbusters: Afterlife has a UK release date of 10 July 2020
King of Staten Island
Comedy behemoth and puppet-master Judd Apatow is back in the writer/director saddle for a semi-autobiographical tale depicting the childhood of Pete Davidson (Saturday Night Live), as he grows up in Staten Island and suffers the loss of his firefighter father 0n 9/11. Davidson co-wrote and stars in the film, which premieres at SXSW in March.
King of Staten Island has a UK release date of August 2020
The French Dispatch
No one does kooky, offbeat surrealism quite like Wes Anderson. In this spin through his universe, he's turning his eye – and that of his costume and production design department – to the world of that much-loved professional class, newspaper journalists. The film features three tales set around the bureau of an American paper in a fictional French city. The cast list is frankly ridiculous, featuring a heady mix of Anderson alumni, including Bill Murray, Frances McDormand and Willem Dafoe, alongside newbies Lea Seydoux, Timothee Chalamet and Benicio Del Toro.
The French Dispatch should land in the latter half of 2020
Eurovision
On paper, Will Ferrell in a tale about Icelandic music duo Lars Erickssong and Sigrit Ericksdottir's (Rachel McAdams) Eurovision entry kind of writes itself. Cue mullet wigs, terrible music and a deadly rivalry with their Russian nemesis, played by Dan Stevens. Directed by David Dobkin (Wedding Crashers), produced by Ferrell's long-time partner Adam Mackay (Anchorman, Vice, The Big Short), also starring Pierce Brosnan and co-written by Ferrell himself, it has all the key ingredients to be exactly the film you want it to be. A Netflix Original which is due much later in the year.
Eurovision is expected to land in late 2020
Let Them All Talk
In a premise that has the feel of a grown-up Sideways, Steven Soderbergh directs Meryl Streep as a well-known author who takes a trip with old friends to look back on old times and figure out where things stand now. A cruise ship is involved, and Candice Bergen, Diane Wiest, Gemma Chan and Lucas Hedges play the supporting troupe.
Let Them All Talk is expected to land in late 2020
On the Rocks
On the Rocks is notable on the one hand for being one of Apple's first original movie productions (in partnership with all-conquering, upstart studio A24) but mainly, on the other, for being a reunion of sorts for director Sofia Coppola and star Bill Murray; this is their first time working together since their Oscar-winning partnership in the 2003 film Lost In Translation (though Coppola did direct Murray again in 2015's A Very Murray Christmas). On The Rocks follows a young mother (Rashida Jones) and her estranged playboy father, who reconnect over an eventful day in New York.
On the Rocks is expected to land in late 2020