Harry Potter fans have noticed a massive error in the new Fantastic Beasts trailer - and they're not happy
Mirror
16/03/2018
When J K Rowling revealed the new Fantastic Beast movies, lots of Harry Potter fans were a little nervous.

Obviously the opportunity to spent more time in her amazing wizarding world is exciting, but how could they possibly live up to the original books and films?
But when the first movie finally hit out screens back in 2016, most were actually quite impressed with the new, albeit very different, take on Harry's world.
And this week we got out first peek at the second movie - Fantastic Beasts: The Crimes of Grindelwald.
© Provided by Trinity Mirror Shared Services Limited Credits: PA It teases what happens after dark wizard Gellert Grindelwald, played by Johnny Depp, escapes from the Magical Congress of the United States of America's custody.
But after watching the long-awaited clip, many Harry Potter fans were not happy after spotting a glaring issue with it.

The clip shows a group of people apparating in Hogwarts Castle.
Now everyone knows you can't apparate in Hogwarts thanks to a series of spells put in place to protect the castle.
It's something that's mentioned in pretty much all of the books, and it's a key part of most of the plots.
© Provided by Trinity Mirror Shared Services Limited Credits: Warner Bros Outraged fans have taken to social media to share their disgust.
Just trying to make Hermione and Bathilda Bagshot (RIP) proud

— Kyleen Breslin (@kbreslin624) March 13, 2018
"You can't Apparate inside the Hogwarts grounds, how often do I have to tell you?" - Hermione Granger #CrimesOfGrindelwald #FantasticBeasts pic.twitter.com/p14YeOjfsI

— The Leaky Cauldron (@leaky) March 13, 2018
Honestly, David Yates, if you would only read Hogwarts: A History, you would know that you can't apparate onto school grounds... pic.twitter.com/xcJ3yHzi78

— Benjamin Light (@benjamin_light) March 13, 2018
You👏Can't👏Apparate👏Within👏The👏Grounds👏Of👏Hogwarts👏

— Mallory Hayes (@MalloryAHayes) March 13, 2018
But some fans suggested that maybe the strict rules were added after the events featured in the Fantastic Beasts movie.

Nope.
The books clearly say that the castle has ALWAYS been protected by spells and restrictions.
However many people are pointing out that they wouldn't have just forgotten this, and it must be in there for an important reason.
So who knows what's going on, but one thing is for sure - we can't wait to find out.
Related: 'Harry Potter' stars: Where are they now? (GES)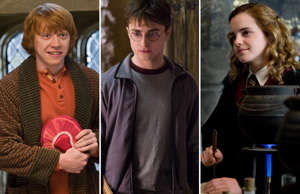 For more of the most popular News, Sport, Lifestyle & Entertainment on MSN, Follow us on Facebook, and on Twitter