7 bleak breakdowns of beloved TV double acts

Digital Spy (UK)
20/04/2018
© BBC 7 double acts that broke down – and the bleak reasons why The history of television is littered with successful double-acts that self-destructed. Whether comedy duos or presenting partners, the sad truth is that beloved pairs often come to hate each other. Here are the sometimes bleak behind-the-scenes stories of a few that fell apart…
1. Peter Cook and Dudley Moore
© Provided by Digital Spy Peter Cook may have been one of the most prominent British comedy icons of the 1960s, but he was known to be irascible. Having once given David Frost his big break, Cook later grew to resent his success, allegedly saying that his only regret in life was once saving Frost from accidentally drowning. And he only did that in the fear that NOT saving him might have made him look bad – charming!
All of which shouldn't make it too surprising that his relationship with legendary comedy partner Dudley Moore also became fraught. During the 1970s, on tour in the US, Cook succumbed to alcoholism, and his relationship with Moore suffered.
That Moore became an unexpectedly popular movie star while Cook was reduced to cameos in a succession of cinematic duds probably didn't help. Either way, while they continued to make sporadic appearances together (and remained on-off friends), the combination of alcohol and resentment meant that things were never quite the same again.
2. Anthea Turner and Eamonn Holmes
© Provided by Digital Spy Long before Piers Morgan started putting people off their breakfasts on Good Morning Britain, the airwaves of the early hours were ruled by GMTV. Hosted by Eamonn Holmes and Anthea Turner between 1994 and 1996, GMTV was much the same as GMB is these days – right down to the fact that the presenters couldn't stand each other. (Are we reading too much into Susanna's sideways looks?)
They both seemed amiable enough on air, but the breakdown was fast, with Holmes later claiming that Turner would "stamp her feet" if she didn't get her way, calling her "Princess Tippy Toes", and even suggesting that he would watch Turner's interviews if he needed help getting to sleep.
It's not surprising Turner soon stepped away from the show…
3. Denise Van Outen and Johnny Vaughan
© Provided by Digital Spy Another prominent breakfast pairing, Vaughan and Van Outen had made the chaotic lunacy of the Big Breakfast house their own around 1998. Van Outen even claimed they were like "brother and sister". They were a true team, and it genuinely showed on screen.
That is, at least, until Johnny Vaughan apparently went behind her back to help renegotiate his contract – namely the financial aspects – leaving Van Outen behind. Understandably, this was seen as something of a betrayal, and as much fun as games of More Tea Vicar were, van Outen walked, and The Big Breakfast arguably never recovered. They reunited on Capital radio in 20078 but it only lasted six months, with Van Outen later revealing that Vaughan had "knocked my confidence".
4. Stewart Lee and Richard Herring
© Provided by Digital Spy The very fact that we've headed this one as 'Lee and Herring' and not 'Herring and Lee' is actually the first example of where the dry double act between Stewart Lee and Richard Herring (sorry Richard, we've done it again) began to falter. Herring is often self-deprecating about being a 'failed performer', but it all stems from real experiences living in Stewart Lee's shadow. And it all began with Lee insisting his name go first.
Herring would often see a Lee comedy set and realise it was based on conversations he'd had with him, and that the ideas and responses being riffed (and mocked) on stage actually came from him. The pair even came to blows in their office once as resentments bubbled over.
Lee ultimately didn't want to be in a double act, and while they're on good terms now (any apparent bitterness is part of their schtick), Lee and Herring as a double act didn't survive.
5. Bud Abbott and Lou Costello
© Provided by Digital Spy "Who's on first?"
You know it, we know it, everyone knows it. It's arguably the most famous comedy skit of all time, but creating material that became legendary didn't mean it was plain sailing for the premiere comedy duo of the 1940s. Bud Abbott and Lou Costello fell out often, including once when Abbott hired a domestic servant that Costello had once fired. It upset Costello so much that the pair stopped speaking.
Both men also suffered from illnesses that they struggled with (epilepsy for Abbott; rheumatic fever for Costello). Costello eventually turned to alcohol to help manage his pain, and suffered personal tragedy when his son passed away two days before his first birthday. Their personal troubles were compounded by career ones – they ultimately suffered from overexposure, and were eventually usurped in the 1950s by fresh young duo Dean Martin and Jerry Lewis. (More on them below).
In his autobiography, actor Errol Flynn admitted he may have provided the straw that broke the camel's back, when a practical joke he arranged saw the pair inadvertently screening a hardcore porno at a dinner party – with each immediately blaming the other. Flynn, naturally, kept quiet. Not quite as noble as in his Robin Hood days, then…
6. Jerry Lewis and Dean Martin
© Provided by Digital Spy Dean Martin is arguably most famous as one of Frank Sinatra's 'Rat Pack' of hard-partying stars, but prior to that he was paired with Jerry Lewis, and together they were the biggest comedy duo in 1950s America. Remarkably, they performed together for exactly ten years to the day, racking up numerous film and TV appearances, including stints on NBC's extremely popular The Comedy Hour.
As often happens, fame and proximity eventually got the better of them. Many critics painted Lewis as the real talent, while Martin was seen as "the other guy". There's surely no better example than when a magazine gave the duo a cover story and cropped Martin out of the picture entirely!
Indeed, Martin once told Lewis he was "nothing but a f**king dollar sign" to him, which, as duo breakdowns go, is fairly emphatic.
7. David Walliams and Matt Lucas
© Provided by Digital Spy The most popular British comedy duo of the early-2000s, Lucas and Walliams' Little Britain was a genuine phenomenon, even if looking back at it now – just a decade later – might make you cringe. The pair don't work together anymore, and there's a good reason.
In his published memoir, Lucas reveals that there was plenty of resentment between the pair. Admittedly, much of it seems petty – Walliams insisted on Maltesers, while Lucas preferred other confectionery; Walliams refused to shave before the pair shared on-stage kisses, resulting in stubble rash for Lucas – but in close proximity over the years, it all builds up.
Walliams' success as a children's' author and frequent high-profile charity stunts (swimming the channel) also grated on Lucas, who did a stint on Doctor Who, but has generally kept a lower profile otherwise.
Related: Musical duos: Where are they now? (GES)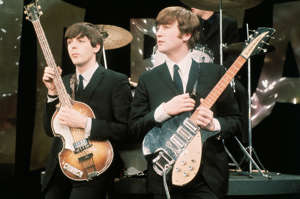 For more of the most popular News, Sport, Lifestyle & Entertainment on MSN, Follow us on Facebook, and on Twitter