Michael Barrymore makes ITV return 16 years on from being dropped when Stuart Lubbock died in his swimming pool
Mirror
23/03/2018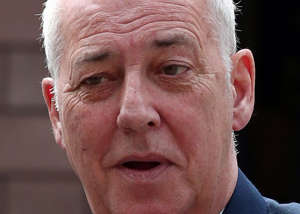 © Press Association Michael Barrymore Michael Barrymore is returning to ITV for the first time since he was axed from the channel 16 years ago.
He makes his comeback at Easter in an ITV3 documentary about the late Larry Grayson, who he was the warm-up act for on The Generation Game.
My Kind of Music host Barrymore was dropped by ITV in 2002 after the tragic death of Stuart Lubbock in a swimming pool at his Essex home the year before.
Last year Barrymore won damages in the High Court for his wrongful arrest on suspicion of Mr Lubbock's rape and murder in 2007 when police launched a new inquiry into the tragedy.
© Provided by Trinity Mirror Plc Credits: LWT No charges were brought after the Crown Prosecution Service said there was insufficient evidence.
Now Barrymore, 65, has been allowed back into the ITV fold to present Larry Grayson: Shut That Door.

In it he says of the legend: "He had an amazing career out of just being Larry Grayson. He was unique."
© ITV/Mirror Michael Barrymore in ITV comeback Grayson hosted The Generation Game from 1978, replacing Bruce Forsyth. Barrymore tells viewers: "I was warm-up man for him. He fumbled his way through the programme, you were never sure he was going to get through to the end of the show in one piece. But he always did."

Barrymore visits Grayson's dressing room at the London Palladium, where he topped the bill in the 1974 production Grayson's Sandals.
© Provided by Trinity Mirror Plc Credits: ITV Noting the prestigious room No1 would also have housed Judy Garland, he says: "Larry would've sat here and pinched himself and said, 'I'm here, I've made it'."
And Barrymore, who was also one of the UK's most popular entertainers before his fall from grace, adds: "I know what the feeling is like, it is pretty amazing."
Barrymore says many of Grayson's fans thought his campness was an act.
"I remember talking to some old girls and I told them he was gay and they didn't believe me," he says.
He recalls going to parties Grayson hosted in Paignton, Devon. Barrymore, then a hairdresser, said he learnt a lot from the entertainer.
Barrymore was once one of the UK's most popular stars, with shows such as Strike it Lucky. Grayson died in 1995.
For more of the most popular News, Sport, Lifestyle & Entertainment on MSN, Follow us on Facebook, and on Twitter