Netflix's New Show Dark Is Better Than Stranger Things
Refinery29
10/12/2017
© Provided by Refinery29 Inc. Refinery29 Alright, strap in. I'm about to say something a little controversial. And finding controversial things left to say in 2017 is a tough ask.
I think, though – I think – I've found a show that's better than Stranger Things.
Dark is Netflix's new original German thriller series. There are 10 episodes, and it's been out since 1st December. Since then, the show's got rave reviews, with the Guardiancalling it a "bit of classy obsidian darkness" while The Verge says it's "impossible to stop watching".
The first German Netflix series 'The Dark' is seriously so good. Jesus.

— Stephan Jonas (@Jonastephan) December 2, 2017
I'll be honest, 'Dark' is in my opinion the best thing Netflix has ever produced, by a good margin.

Wow...

— Protean Perspective (@Somnilux) December 3, 2017
In fact, some people like it so much that...
Controversial, but, if people are gonna keep comparing DARK to STRANGER THINGS then I'm gonna have to put it out there that DARK is easily the superior show. #netflix

— Marissa⭐🌠 (@Risszlaa) December 5, 2017
There are many very good reasons why people are comparing Dark to Stranger Things. For starters, Dark is set in Winden, a small, remote town where something weird is going on. Just like Hawkins in Stranger Things, said weirdness appears to be emanating from a shady local enterprise; in this case it's a nuclear power plant.
Furthermore, the main characters in Dark are a group of teenagers and the show features strong ties with the 1980s, through costume, music and historical references.
No doubt more similarities will present themselves throughout the season but, really, Dark has more than enough imagination to stand on its own two separate and accomplished feet.
Winden is a fictional Bavarian, heavily forested town. It's the sort of small town that people grow up wanting to leave and then don't. The sort of town where everyone knows each other and rumours spread quickly. The sort of town where everyone is hiding something. It is 2019, the final year of the nuclear power plant's existence before it is decommissioned. A man kills himself. A local boy goes missing. Then another one. Birds begin to drop out of the sky. The electricity fails. For the main group of teenagers, the events are scary and confusing. For the adults of the town, though, most of whom have spent their whole life there, things seem eerily reminiscent of 33 years ago, a big year in the nuclear power plant's history, when another boy vanished from the woods.
Related: Binge-worthy Netflix series to watch [Photos]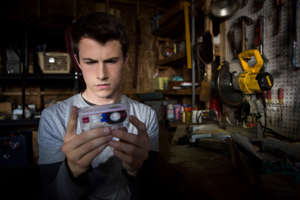 A mysterious shadowy figure seems to hold the key to what is going on. His question, as he keeps asking, is not where the missing boys are, but when. Time travel, as you've probably guessed, becomes involved, as do multiple storylines stretching across a 66-year arc. The town of Winden exists beneath an air of unease, a tenseness that's exacerbated by the heavy rain and low clouds, the dark lighting and the synth-heavy music (think Tears For Fears' "Shout"). Every so often, the cloying use of strings interrupts the dank air to raise the hairs on the back of your neck.
The female characters are well thought-out, intelligent and no-nonsense. Much is made of the fact that a woman was put in charge of Winden's nuclear power plant all the way back in 1986. Providing for the family, organising the townspeople, influencing and carrying storylines seem to be responsibilities weighted equally between the male and female characters in 2019. Of course, this isn't a surprise when it comes to Netflix. After all, this is the streaming platform that gave us Orange is the New Black back in 2013, when just 27% of women working behind the scenes in TV were female, just 42% of women had speaking roles and of those women, 74% were white. Actually, the one place that Dark does come into question is that so far, in the episodes I've watched at least, the cast is startlingly non-diverse; perhaps forgivable in West Germany in 1986 or 1953, but for a 2019 setting? Things could surely be different.
When it comes to actually sitting down to watch Dark, it's important to note that the default setting on UK Netflix is the badly dubbed English version. Don't accept this. The out-of-sync lips clash with the American accents, which sound oddly placed in such an obviously European setting. Instead, head to your subtitle settings and turn the language to German and put the English subtitles on. Subtitles make you concentrate better anyway – how are you going to flick through Instagram when you've got to read what's happening on screen?
Weird dubbing aside, Dark is pretty close to nailing it. It's the perfect show to watch at this time of year, wrapped up in a blanket while night falls; while frost settles outside and the damp creeps in. It's unsettling and engaging escapism for a confusing world. In fact, as Christmas draws near, consider it the necessary and the best antidote to watching Love Actually YET AGAIN.
Dark is on Netflix now.