'Peaky Blinders' Fan Theory Explains Why Gina Grey Can't Be Trusted

Esquire (UK)
09/09/2019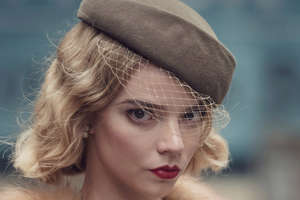 © BBC This Peaky Blinders fan theory explains why Gina Grey can't be trusted Editor's note: The opinions in this article are the author's, as published by our content partner, and do not represent the views of MSN or Microsoft.
The explosive ending to the latest episode of Peaky Blinders and Aunt Polly's last-minute intervention in particular, has taken up most of the post-match discussion on Twitter and Reddit.
But fan theorists reckon that the more subtly important moment came when Gina Grey, newly hitched to Michael, had a bit of a moment with Oswald Mosley.
Gina and Moseley are definitely in cahoots. #PeakyBlinders

— Alexa Martin (@iamalexa) September 9, 2019
I think it's funny how everyone is talking (quite rightly) about Arthur and Linda, but we all seem to have forgotten the subtle bombshell that is that it's now obvious that Gina and Mosley know each other. #peakyblinders

— Eleanor Parks (@WritingEleanor) September 9, 2019
ooP that glance between gina and mosley #PeakyBlinders

— bella :)) (@bellaaa__02) September 9, 2019
But what kind of connection are we looking at here? There are a few competing theories, the first of which says that she's politically sympathetic to Mosley's proto-fascist cause. Now that we know Tommy Shelby's not particularly keen on all that and would prefer to put a stop to Mosley's manoeuvring, the theory runs that Gina is Mosley's insider, feeding information on the Shelbys to Mosley so he can destroy them before they destroy him.
i'm calling it now, oswald and gina know each other and are working together #PeakyBlinders pic.twitter.com/HQLdgn64ue

— ️ (@tayblvck) September 8, 2019
Others say that there's a third point to this treacherous triangle: Al Capone.
#PeakyBlinders Don't trust Gina, eyes to far apart for a start 😝 Links with #OswaldMosley I thought being from Chicago she may be linked with #AlCapone (#TommyShelby mentioned him previous series 👀👀

— Sybil_Fawlty (@FawltySybil) September 9, 2019
That'd be a hell of a leap into a new territory for Peaky Blinders, and a fairly massive reach back into the past, but it's not entirely off the cards. Yet others reckon the betrayal goes even further, and that Gina and Mosley are a cosy fascist item.
I think Gina and Mosley having a relationship. Mosley made Gina to meet with Michael. She is his spy or something like that and using Michael #PeakyBlinders

— Darmody (@Darmody20) September 9, 2019
I feel Gina is banging Mosley cos she's probably the sister of his actual wife & the baby is his whilst they plot against Tommy #PeakyBlinders

— Nairobi (@sincityyo) September 8, 2019
That would grease up the already slightly slippery grip which Peaky Blinders has on the actual history of the time period, but it wouldn't be the first time an actual historical figure has banged a character in the show for plot purposes - Tommy slept with Jessie Eden, the communist organiser and strike-leader, to get hold of info about her communist mates last series.
Watch: Peaker Blinders series five trailer (Irish Mirror)
Gallery: Peaky Blinders season five cast – all you need to know (Hello)
MSN UK is committed to Empowering the Planet and taking urgent action to protect our environment. We're supporting Friends of the Earth to help solve the climate crisis, please give generously here or find out more about our campaign here.