The Last of Us boss on season 2's difference to House of the Dragon

Digital Spy (UK)
21/03/2023
The Last of Us co-creator Craig Mazin has reassured fans of the HBO post-apocalyptic show that no recast will occur "on [his] watch".
The screenwriter and director — who oversees the TV adaptation of the video game series of the same name with Neil Druckmann — has confirmed Bella Ramsey will return in the role of Ellie opposite Pedro Pascal's Joel.
Much like the second video game, season two is expected to take place about five years after Ellie and Joel get to Jackson. However, it seems that The Last of Us won't follow in the footsteps of another HBO hit series, Game of Thrones' spinoff House of the Dragon.
Related: The Last of Us season 1 almost had different ending
Last year, the fantasy show treated viewers to mixed-received time jumps and recasts, with the two younger protagonists being replaced by older actors mid-season. But this won't be the case for The Last of Us, which intends to keep Game of Thrones star Ramsey as Ellie.
"Obviously, the time jump is important, to some extent," Mazin told Collider. "It reflects the changing nature of Ellie's relationship with Joel, as she gets older."
The co-showrunner then explained they won't do time jumps à la House of the Dragon given the age leap isn't as significant as it was in the Game of Thrones prequel.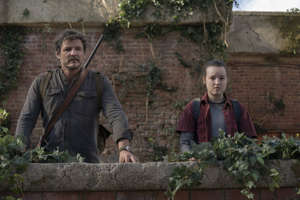 Related: The Last of Us's giraffes are more important than you might think
"In the game, [Ellie] goes from 14 to 19, I believe. But no, we are not doing House of the Dragon leaps," Mazin said. "Those were very significant leaps in age, and we don't have that. So, no recasting will occur. Not on my watch."
However, Mazin teased that fans could expect to see more differences form the game in the second season.
"Anybody that has played the first game, and then watches this season of television, will know that we are neither afraid to do what was in the game, nor afraid to do something that wasn't in the game, nor afraid to change things somewhat radically from the game. We follow our hearts, when it comes to the process of adaptation, which is sometimes about fidelity and sometimes about new creation."
The Last of Us airs on HBO in the US, and on Sky Atlantic and streaming service NOW in the UK.