AA blames snow and potholes for breakdown in profits

Sky News
26/09/2018
The AA has blamed a 65% fall in pre-tax profits on a surge in demand for roadside help during the winter, with call-outs hitting a 15-year high.
It said the number of breakdowns had sharply increased as a result of freezing conditions during the so-called "Beast from the East".
The AA said vehicle failures ramped up costs in the first half of its financial year, as over 1,900 stranded members sought help.
© Other An AA patrol. Pic AA It said a "pothole epidemic" had contributed to call-outs - with the poor state of roads in many areas a top complaint among UK businesses.
Profits came in at £28m from the six months to July - down from £80m in the same period last year.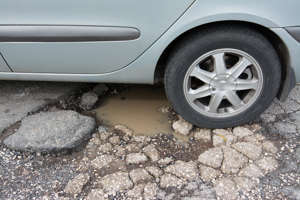 © Getty The AA said total Roadside revenues held up despite an anticipated drop in business and personal memberships due to stronger promotional activity among rivals. Revenue at its insurance division was flat.
Download the Microsoft News app for your Android or iPhone device and get news & live updates on the go.
Shares - down more than 30% in the year to date - fell a further 8% in early trading on Wednesday.
Chief executive Simon Breakwell said: "The first half of FY19 (full year 2019) has seen exceptional weather conditions, from extreme cold and snow in February and March to the hottest summer in recent memory, with the severe winter also creating a pothole 'epidemic' on the UK's roads.
© PA Drivers help to push a vehicle back on the road after heavy snow made road conditions difficult in Midlothian near Edinburgh "All this led to a 15-year-high in the number of breakdowns we serviced.
"Against this backdrop, I am extremely proud of our achievements and to be reporting results in line with our guidance as we continue to build resilience throughout the business.
"We are making good operational progress across our Roadside and Insurance businesses and firmly believe that we have the people and strategy in place to unlock the full potential of the AA and crystallise long term value for our shareholders.
"We remain on-track to meet our Trading EBITDA (earnings before interest, tax, depreciation and amortisation) guidance for FY19 and to return to growth thereafter."