Birmingham is named as the UK's worst areas for food hygiene – for the second year running

Daily Mail
25/06/2018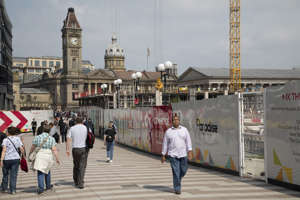 © getty

Going out for dinner? After reading this you may not have the stomach for it – especially if your destination is Birmingham or Hyndburn in Lancashire.
Both have been named as the UK's worst areas for food hygiene – for the second year running – after a study by consumer group Which?
Birmingham City Council had a poor record for carrying out inspections, with 16 per cent of the city's more than 8,000 food businesses yet to be rated, according to the study. It also found that 43 per cent of Birmingham's high and medium-risk food businesses did not meet food compliance standards.
In Hyndburn, the region which includes Accrington and has a population of 80,000, just two in five of medium and high-risk food firms met hygiene standards, according to Which?
The study looked at data for 390 local authorities including information collected by the Food Standards Agency. The high and medium-risk descriptions relate to local authority assessments of food businesses. For example, a newsagent selling sweets would be a low-risk food business while a caterer or food manufacturer would be higher risk.
Erewash Borough Council, in East Derbyshire, was rated top. 
Mark Croxford of Birmingham City Council disputed the findings. He said staff had inspected the second highest number of premises, carried out more prosecutions and closed more food premises than any other English local authority in 2016/17.
Hyndburn Council's deputy leader Paul Cox dismissed the findings as 'not a true reflection of the current picture in Hyndburn', claiming the statistics used were 13 months out of date. He said Hyndburn had taken 'significant strides to improve food hygiene performance'.
Alex Neill of Which?, said: 'When it comes to food, British consumers expect the very best standards.'
Related: World's 50 best restaurants 2018: All the winners
MSN Loneliness Campaign: Could you go a week without seeing anyone? We're helping three charities raise funds for the 9 million people affected by Britain's 'silent epidemic'. Find out more and please donate now.