CBD oil: debunking the myths

Harper's Bazaar (UK)
07/12/2018
A special message from MSN: 

While Christmas is a time of joy for most of us, that's not the case for the UK's most vulnerable children and young people. We've partnered with giving platform Benevity to raise funds for two charities - the NSPCC and The Children's Society – to try to help change that. You can help make a difference - please donate now.
The popularity of oil-based products deriving from the cannabis plant has soared over the last year since hitting shelves in the UK. An influx of scientific research has demonstrated that CBD can be widely beneficial, offering relief to a variety of health problems, such as anxiety, depression and a range of medical disorders.
There is still much confusion surrounding CBD oil, particularly due to its relationship to cannabis. So, to shed some light on the matter, nutritionist Sarah Flower is here to debunk CBD oil myths, and help us separate the facts from the fiction.
Myth: CBD oil is illegal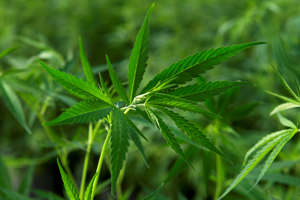 © Getty Cultivation of CBD oil CBD, also known as cannabidiol, is a legal oil extracted from the cannabis plant which has become known for its medicinal properties, especially relieving pain. CBD oil is often mixed with other oils such as olive oil, coconut oil or hemp oil which can act as a carrier but can also aid absorption. You can buy it in liquid forms, sprays, pastes, teas, as well as capsules. The media recently reported on parents of children with epilepsy campaigning to use cannabis oil, but this treatment uses THC (medical marijuana, the illegal part) in addition to CBD oil and is therefore not legal to purchase or bring into this country. GPs in the UK are now considering each case individually as there is evidence to suggest that combining CBD with THC can help a number of conditions including epilepsy, cancer and MS – but know that this is very different from the over-the-counter CBD oil.
Myth: CBD oil can make you hallucinate
CBD oil does not contain the chemical psychoactive component THC tetrahydrocannabinol, which is the part of cannabis that triggers a high or hallucination. As noted above, products containing THC are illegal in the UK. CBD oil is extracted from hemp and not the cannabis plant containing THC; in fact, CBD oil has been shown to help block the psychoactive effects of THC on the brain and can also help reduce anxiety, stress and even depression.
Myth: CBD oil is addictive
CBD does not work in the same way as cannabis and is not addictive. However, CDB oil will stimulate your dopamine and serotonin levels giving you a 'feel good' factor which can help when you are suffering with pain, depression and other related conditions. Our endocannabinoid system controls and regulates many functions in our body, from sleep, inflammation, mood and appetite. CBD oil has been shown to enhance our endocannabinoid system, restoring balance and harmony in our body.
Myth: CBD oil is just used for pain
As CBD oil is classed as a food supplement, the manufacturers and retailers cannot make any medical claims, but research has shown it is beneficial for a number of conditions including anxiety, depression, inflammation, sleep disorders, autism, epilepsy, inflammation, migraines, joint pain, MS, fibromyalgia, Parkinson's and even some skin conditions including acne. There is talk that CBD oil may start to be classed as a medicine, and in which case it will be subject to more trials and research in the future.
Myth: CBD oil is completely safe
Although CBD oil is deemed safe to use, it can have some side effects and, in addition, interact with some medications. It is advisable to ask your GP before you start using CBD oil as it can affect some prescriptions such as anti-depressants, and some over-the-counter medications. There is often confusion over strength, potency and dosage; everyone reacts differently so it is best to start slow and low and increase as you go along. If you are not clear on what you are purchasing, then seek advice from a professional and always buy from a reputable company, such as Power Health, the market leaders in nutritional supplements. Their CBD oil contains 20 servings of CBD, which should be consumed in 50mg doses squeezed under the tongue. For optimum absorption and results, simply keep it in your mouth for up to five minutes before swallowing and repeat up to four times a day, depending on requirements. This unique product will not only help combat sleep difficulties but has also been found to help with a myriad of health problems, including; arthritis, fibromyalgia, IBS, depression, ADHD and high blood pressure.
Watch: Everything you need to know: Cannabis oil [Wales Online]