Collagen: What you need to know

Cover Media
06/11/2018
© Provided by Cover Media In recent years, there has been a lot of buzz in the beauty industry surrounding collagen.
But what exactly is collagen? In humans and animals, collagen is an abundant protein and is mostly found in fibrous tissues such as skin, tendons and ligaments.
Download the Microsoft News app for your Android or iPhone device and get news & live updates on the go.
"Collagen is the building blocks of skin. Think of it as scaffolding," Andrew Petrou, Bioglan skincare expert, told us. "It is an essential component not only of skin, but of our whole bodies. There are various types of collagen, but Type 1 is most common in the skin."
Collagen provides strength, flexibility, protection and firmness in the skin, and accordingly, medical collagen - which is derived from young beef cattle - is often used in cosmetic surgery in order to heal burn patients and for a wide variety of other dental, orthopaedic, and surgical purposes.
Watch: The Dirty Truth about Pollution and Your Skin [Irish Mirror]
A number of creams, lotions, serums and masks designed for everyday skincare use claim to be infused with collagen too, though Andrew is sceptical that the protein alone can really have an impact on the complexion when included in such formulas.
"The collagen molecule is huge, so it is unlikely to penetrate skin layers when used in creams," he explained. "However, peptide technology (along with amino acids) can have a signalling effect for skin to maintain and repair existing sources."
In humans, collagen stores decline steadily from the age of 25. But thankfully, there are some ways to boost the protein in the body.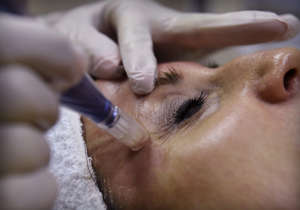 Bioglan scientists have developed a range of Beauty Collagen edible products, including tablets, gummies and powders, which are formulated with readily absorbed hydrolysed Marine Collagen, derived from fish, as well as biotin and selenium.
There are various supplements available in health food shops, while drinkable collagen brands such as Skinade, Beauty & Go, and Pure Gold Collagen are cropping up too.
Gallery: 30 Anti-Aging Foods for Women That'll Keep You Feeling Young [Redbook]