Ways To Stay Healthy If You Sit All Day At Work

Medical Daily
28/02/2019
© Getty Because of the numerous reports highlighting the negative effects of sitting all day, it is possible that most people today have an idea about it. 
Long hours of sitting have been linked to joint pain, poor posture and more serious health risks, such as heart disease and type 2 diabetes. Health concerns are commonly raised by office workers, those that take more than eight hours behind their desks. 
Combined with stress, sedentary behaviour and unhealthy habits, sitting for majority of the day whether at home or in a corporate cubicle could significantly affect health. 
To help reduce the health risks of sitting, here are simple ways that will not require too much time and effort to improve health and well-being while working: 
1. Fix your monitor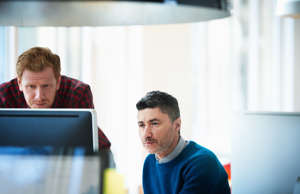 © Getty Jim Sheedy, director of the Vision Performance Institute at Pacific University, said the top of the computer screen should level with the eyes to be looking down about 10 degrees. 
If the screen is too low, the head will adapt and follow by pointing down, which could then cause neck and back aches. Also, try to reduce display and screen brightness to avoid dry eye syndrome.
2. Stand up! 
If sitting too long, simply stand up. A research from the University of Minnesota and the Mayo Clinic shows that standing up could increase sense of well-being and decrease fatigue and appetite. 
Gallery: Simple ways to keep your brain young and healthy [StarsInsider]
3. Improve posture
Office-based employees are known to suffer from poor posture as they tend to crane their necks forward and closer to the screen. Such posture can cause strain on the neck and spine.  A chiropractic expert suggests to do chin retraction, an exercise done by making a double chin. This could help keep the neck and spine lined up underneath.
4. Improve lighting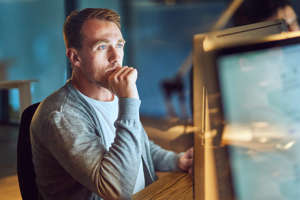 © Getty Shot of a young man using a computer during a late night in a modern office Adding a light to the desk could help maintain healthy eyes. A desk light can help prevent glare and the Computer Vision Syndrome, which causes eye strain, eye fatigue, dry eyes, light sensitivity, blurred vision and headaches.
5. Use a plant
Be close to nature. Simply put green, leafy plants on the desk to inspire creativity and a feeling of wellness, according to experts. Plants are known to improve psychological perspective and memory.
Some plants could also help improve air quality in the office.
6. Drink more water 
Stay hydrated. Research shows that an average desk-dwelling employee is commonly deficient in water. 
Place one litre of water bottle near the computer screen and drink at least three times a day to stay hydrated. Proper hydration promotes cardiovascular health, keeps the body cool and improves muscles and joints. 
Gallery: 100 Ways to Live to 100 [Men's Journal]