Young obese women have 'increased risk of heart disease'

Cover Media
11/09/2019
Young obese women have an increased risk of developing heart disease earlier, researchers report.
Experts from the Medical College of Georgia at Augusta University have discovered that the hormone progesterone - which aids women in pregnancy - could lead to them suffering from heart disease much earlier.
Lead study author Dr. Eric Belin de Chantemele found that women have naturally higher levels of the hormone aldosterone, which hits dangerous levels when the female is obese, as it increases the risk of high blood pressure and can cause enlargement of the heart.
Video: The best exercises for those with high risk of obesity(Buzz60)
And when mixed with the increased level of progesterone produced by overweight women, the risk of developing cardiovascular disease rises.
The findings, published in the journal Hypertension, also suggested that obese females were much more likely to have heart disease or similar problems than men, due to the hormone leptin which women produce on a much bigger scale.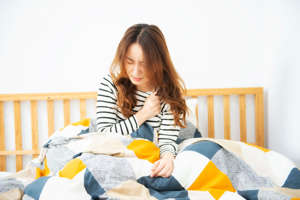 © Getty Woman With Chest Pain Sitting On Bed Researchers studied the effects of the hormones on mice, and found that progesterone increased the levels of aldosterone in the female mice, but when it was removed, the levels of aldosterone were subsequently suppressed. 

"Basically, we think that progesterone is some sort of evolutionary mechanism for sustenance of an increased mineralocorticoid receptor expression in the vasculature of females," Dr. Jessica Faulkner, co-author of the study, said.
Having high levels of aldosterone and progesterone is not damaging to women who are not obese, the study found, and the researchers do not yet know if progesterone also increases with obesity.
Gallery: 20 daily changes that will improve your heart health(Espresso)
In light of the findings, heart surgeon Dr. Vijay Patel, who was on the team of investigators at the Medical College of Georgia, wants more studies done on overweight young women in an effort to reduce the risk of them developing the potentially fatal disease later in life.

MSN UK is committed to Empowering the Planet and taking urgent action to protect our environment. We're supporting Friends of the Earth to help solve the climate crisis, please give generously here or find out more about our campaign here.