'Bad teeth ruined my confidence but I've finally learnt how to smile'
© Robert Seals Plagued by bad teeth, chronic toothache and a phobia of the dentist since childhood, Rob Seals, a 46-year-old construction expert from Derbyshire was at his wits' end when he made the life-changing decision to get his worn-out gnashers fixed. Cue the 'Everest' of dentistry, courtesy of Dr Richard Marques of Wimpole Street Dental in London: a full smile makeover. We chatted to Rob about his smile makeover journey and why he took the plunge.
Rob's story
"Good teeth were never a thing in my family. My mother had only one tooth left by her late teens and my father never went to the dentist in his life. I grew up on a farm and as kid, going to the dentist was low down on the list of priorities. The one time I tried to go, my parents dropped me off at the surgery but I was too late for the appointment. I didn't end up getting seen. I developed a phobia of dentists and my fear of going back just got worse. In fact, I remember going to the dentist only twice from the age of six to the time I left school. Back in those days, you did what your parents told you and you only went if it was an absolute emergency.

I never really learned how to smile properly because of the state my teeth were in and I think this affected my confidence as a kid. I remember hanging onto the school fence when I was six-years-old, feeling embarrassed, not mixing with the crowd in the playground. These things stay with you. In every school photo I am tight-lipped and I've always been conscious about keeping my mouth closed when I'm around people. I became fixated on other people's teeth, always thinking why theirs look so good and mine look so bad. My eating habits were also affected. I've had to stick to soft food all my life. I can't remember the last time I was able to bite into an apple.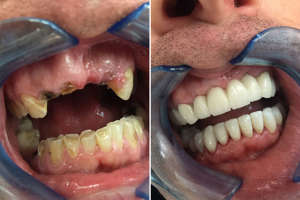 © Wimpole Street Dental As I got older, I basically carried on in the same frame of mind, avoiding the dentist at all costs. Then it got to a point when I just had to go. I was in my mid-twenties, working on a big construction project away from home and the toothache got so bad, I was forced to make an emergency appointment at my local surgery. I ended up having a bridge fitted. Around this time, I was involved in an incident and was punched in the face. The injury put my jaw out of alignment and contributed to the problems I was having with my teeth – the top set of teeth was literally wearing away the bottom set. And the bridge I had fitted on the top set was grinding against the bottom set, wearing my teeth away even faster. I was in a lot of pain. When I initially had the bridge fitted the pain was unbearable, but I eventually got used to it.

Life has been stressful and regular check-ups at the dentist weren't really a priority. I got divorced 15 years ago and I was awarded custody of my three kids. I've had a couple of relationships since but I've been single for six years. My kids come before any romantic relationship. I still kept my job on after the divorce and have worked long hours to provide for my family. My mother passed away six years ago. Two years ago my father took his own life. Things have been very tough at times.

I stayed away from the dentist until my first bridge collapsed. I was in my early thirties, working in Liverpool. I got an emergency appointment and ended up having a replacement bridge fitted, along with a crown.

Four years ago, I was in Glasgow for a concert. The morning after the gig, I went to a coffee shop for breakfast and ordered a sandwich. The bread was fairly crusty and harder than the usual loaf you get. I bit into the sandwich and felt my crown snap off its post. The embarrassment was bad enough and then I had to drive 300 miles back to Derbyshire to see my dentist. He couldn't drill the post out because it had snapped off so far into the gum. The only option was to have a false tooth fitted on a plate. You can imagine having a plate in your mouth you're not used to would be enough of a nightmare but to have a false tooth attached to a plate that is so delicate is unreal.


© Wimpole Street Dental I'd planned to go to Ibiza in the September and two days before I was due to fly, the false tooth snapped off the plate. I still went on holiday but it was such a downer. I got the tooth fixed when I came back. I managed for a while with the Poligrip denture adhesive and so on, then the tooth snapped off again.

In 2014, the second bridge came loose, so I spent a year with Poligrip in my pocket, at work, everywhere. I had a tube in the car, one in the van, one at work, one at home, just to make sure I wasn't ever without my false tooth.

I realised that I had to get this sorted once and for all. A colleague of mine flew to Bulgaria to get his teeth done, but I couldn't face spending weeks abroad having treatment after treatment. I was working in London at the time and kept seeing ads on the Tube and in the free newspapers for dental makeovers.

One day, an ad caught my eye and I booked a check-up off the cuff. The dentist came up with a quote and told me I'd need a year's worth of appointments. I just couldn't hack a year of drawn-out pain, so I carried on with the bridge and the false tooth. Next, I had a consultation with a Harley Street dentist. He asked me if I had an accident in the past that injured my face and told me that the after effects of the injury were the cause of many of the problems I was having with my teeth. I considered going ahead with his treatment plan, but the cost put me off.
Still keen to get my teeth sorted, I was on Twitter one day last year and an ad popped up for Wimpole Street Dental offering a free consultation with the tagline: 'We can help you smile again'. I thought, why not? I'll see what they say. When I met Dr Marques, he told me that I would need sets of veneers on the top and bottom jaw and that he could get everything done with just four visits. He was also able to offer me a 0% APR finance package to spread out the cost of the procedures. I slept on it and the following morning I made up my mind to go ahead with the smile makeover.

I squeezed the timescale so everything would be done by Christmas. I was a bit apprehensive at first but my experience was totally different this time around. Less pain, more relaxation, I could listen to music during the treatments, that sort of thing. The whole process took only a few weeks from start to finish. Having my last appointment just before Christmas was the icing on the cake.

I'm very happy with the results. It's nice not having to stick your tongue in a hole where your front teeth should be and it's nice not to worry about having a tube of Poligrip in my pocket all the time. I've had no pain, apart from a little murmur of discomfort but that had gone away a few days following the final treatment. After years of tight lips, the only thing I need to do now is practise my new smile."
Rob's dentist, Dr Richard Marques of Wimpole Street Dental explains exactly what Rob had done. "Rob had a full mouth porcelain makeover. Crowns were used to cover the worn teeth and bridges were used to replace missing teeth. No surgical treatment or implants were involved although the broken roots were removed. Rob's smile makeover was performed over just four appointments and completed in a month. This was to rebuild Rob's worn and broken teeth, replace missing teeth and restore his smile and facial profile."

View the slideshow: celeb smile makeovers: before and after