Eco-Anxiety Is On The Rise. Here's What You Need To Know

HuffPost UK
19/09/2019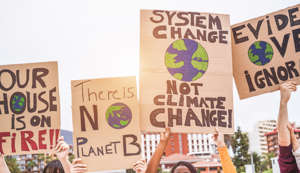 © Getty A special message from MSN: 

Now is the time to take urgent action to protect our planet. We're committed to stopping the devastating effects of the climate crisis on people and nature by supporting Friends of the Earth. Join us here.
'Eco-anxiety' is not a clinical diagnosis, nor is it a disorder. But it is a very real concern that's impacting people's lives right now. With the Amazon forest burning, animal species disappearing, coral reefs dying out, more extreme weather events and glaciers melting rapidly, it's understandable that people are worried. In the words of 16-year-old climate change activist Greta Thunberg: "Our house is on fire."
What is eco-anxiety?
© DisobeyArt via Getty Images What does it look like? 
© boonchai wedmakawand via Getty Images What can you do?