R-bombing: The new dating trend you may have already experienced

The Independent
25/05/2018
© Provided by Independent Digital News & Media Limited Today's dating trends are as whimsical as they are ephemeral.

When once the thing burdening singletons the most was simply finding a socially acceptable way to flirt, now, it's a case of navigating a perilous battleground of ghosts, zombies, cuffers and benchers.
The behaviours these terms describe may not be revolutionary, but giving them a quippy moniker firmly vindicates them as ubiquitous within the all-too-cruel modern dating landscape.
Obviously, it's every singleton's responsibility to stay abreast of the romantic zeitgeist in all its lexical glory so they can defend themselves accordingly - and make intelligent references when conducting in-depth post-date analyses with their friends.

So, the latest one to note is "R-bombing" i.e. when a person you're interested in reads your messages but doesn't respond.
Rhetoric-savvy daters would be forgiven for conflating this with ghosting - whereby someone you're dating suddenly cuts off all communication without explanation or warning.
The difference is a matter of minutia: ghosting is an all-encompassing rejection that may also imply unfollowing or even blocking someone on social media to prevent all future interactions.
Meanwhile, a humble R-bomb simply refers to a single incident of having one's message ignored, a fact that has been made all the more explicit with the advent of read receipts.
"This is incredibly common both by text and through social media," explains dating coach James Preece.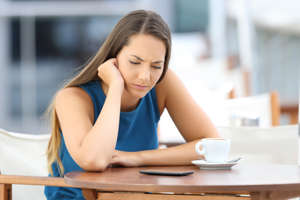 © provided by Shutterstock "It's very similar to ghosting, only you have no doubts they have got your message. You'll be confused and wonder why they aren't responding. The truth is that the other person doesn't want to meet but doesn't want to hurt you by explicitly saying so."

Someone might excuse their R-bombing tendencies by leaning heavily on the narrative that they are "super busy" at the moment.
Alternatively, they may argue that they're simply "useless" on social media - a line they no doubt use to perpetuate their anti-smartphone stance that conveniences their supposedly "transgressive" personal brand.
Whatever their line, Preece explains that a persistent R-bomber is typically disinterested in the person they're R-bombing but is simply too afraid or immature to admit it.
However, being the victim of R-bombing may occasionally lead to obsessive behaviour, warns Preece, i.e. repeatedly checking to see if that person has been online or active on other forms of social media.
This may seem innocent enough, but it's akin to a mild form of stalking, he tells The Independent.

"It's just not healthy to torture yourself by constantly checking out what someone else is up to," he adds.
If your R-bomber is getting you down, Preece advises swallowing your pride and moving on.
"Focus on finding someone who treats you respectfully," he said.
"If you get R-bombed, stop chasing and don't contact them again."
Related: 8 Habits of Happily Married Couples (provided by Real Simple)