The social media paradox: Has modern technology made us more lonely?
Press Association
28/06/2018
A special message from MSN:

Nine million people across all age groups and walks of life in Britain are affected by loneliness. We've partnered with giving platform Benevity to raise funds for three charities - Mind, the Campaign to End Loneliness, and Wavelength – to tackle this debilitating and complex issue. You can help make a difference - please donate now.
Hands up if you have a bit of a love-hate relationship with your smartphone? You're basking in the glow of a well-timed WhatsApp message, only to find yourself in the grip of a self-esteem shaking bout of FOMO a week later.

Technically speaking, thanks to modern devices and the web, we're more connected than ever, yet we're also facing a 'loneliness epidemic'. It's a paradox, and yet it doesn't really come as a surprise, does it? Perhaps because, in some way or other, we've all experienced both sides of the coin.
Social creatures
Interacting online might be easy, but it doesn't necessarily fulfil our needs as social creatures. "Since loneliness is linked to a myriad of mental health problems, getting real social interaction is far more important. 'Virtual' friend time doesn't have the same therapeutic effect as time spent physically with real friends," says Steve Clarke, a leading psychotherapist and addiction treatment services manager at Priory's Life Works Hospital in Woking, Surrey.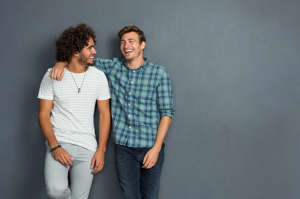 © Thinkstock/PA Good to talk

While he acknowledges the positives of social media, Clarke says the negative impact can't be ignored, and for some people it is a big factor in things like depression, anxiety and isolation. This might involve smartphone or internet addiction ("For many, social media has become their equivalent of a bottle of whisky, it's used to change the way we feel and becomes an unhealthy obsession," notes Clarke), or it might be that encounters online heighten pre-existing negative feelings or patterns.
Clarke says the "distortion" associated with social media – our tendency to compare our worst bits to somebody else's glossy, heavily-filtered best bits – is a mood and confidence-draining trap, which may contribute to social withdrawal for some people.
A number of studies have linked social media use with things like loneliness and low mood. One, published by the University of Pittsburgh last year, found people who visit sites like Facebook, Instagram, Snapchat and Reddit 58 times or more a week, are three times more likely to feel lonely than people who visit these sites fewer than nine times a week.
The researchers, who quizzed almost 1,800 adult aged 19-32, acknowledged it's a bit of a 'chicken and egg' situation: Is spending lots of time on social media making people feel lonely, or are people who are already lonely just more likely to spend more time on these sites? At the same time, other surveys have deemed correlations between loneliness and social media use to be insignificant, suggesting there's more to the picture than a clear cause-and-effect situation.
Either way, there's concern that, as our online interactions rise, our real-life ones are declining – which is often bad news for our mental (and thus eventually physical) health.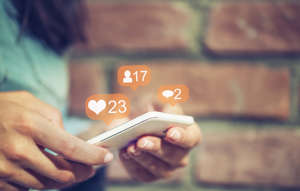 © Thinkstock/PA We need more than 'likes' to nourish our souls

"The quick dopamine hit of likes and comments are fleeting and addictive, always leaving you feeling a bit empty, never satiated. On the flip side, when I have a cup of coffee with one of my girlfriends for an hour, my entire rest of the day is full of life, hope and optimism," says Mary J Baird-Wilcock, a business coach and host of The Simplifiers Podcast.
Staying in touch
That's not to say online communication is inherently negative or pointless. On the contrary, for many people, it's not only useful or convenient but very meaningful and important.
For expats like Katie Roberts – who left the UK to work in the Middle East over a decade ago, before recently quitting her job to head off travelling and launch a blog (The SuitKate Diaries) – it's integral to being able to keep connected and motivated.
"Knowing I can see my family at the touch of Skype button or WhatsApp message is such a comforting feeling when you're on the other side of the world," Katie explains. "Also, knowing they can share my travelling adventure through Instagram and my blog makes me want to be more creative and continue writing and taking photographs of every beautiful moment I encounter."
Although travelling solo, social media means she's been able to become part of an online community, 'meeting' like-minded people and sharing ideas along the way.
A real lifeline
This goes even further for people who might be feeling isolated – whether physically or emotionally – due to a disability or health issue.
Adrienne Lakin has fibromyalgia, a complex chronic pain condition that can have a huge impact on your day-to-day life. As an 'invisible illness', it can be particularly isolating because its extent isn't obvious to other people and getting a diagnosis and appropriate medical support often takes years (Lakin is part of a campaign group petitioning for fibromyalgia to be officially recognised as a disability).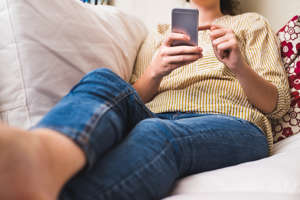 "I am left isolated from the condition due to the pain and chronic fatigue," Lakin explains, noting that she's one of thousands with fibromyalgia who've turned to the internet and social media as a result – and being able to connect with a community of people going through the same thing can be transformative. "Even though it's online, it still gives us some form of escape, we make friends within groups on Facebook and through Twitter. It gives us hope and a sense of being, we are no longer alone or criticised for something that is not within our control – being ill!
"When I became ill, I lost many friends and my social life," Lakin adds. "Having my online friends has helped me mentally and pushed me to do positive things, helping others."
Taking control
There's no doubt modern technology has transformed how we communicate – and brought a wealth of benefits as well as a whole lot of hazards. It's still early days in terms of scientifically measuring the impact it's having, but perhaps one of the most important questions is: How can we make sure we are using our smartphones in ways that will enhance our wellbeing and relationships, rather than dampen them?
Where addiction is an issue, Clarke advocates taking a proper 'digital detox' in order to break cycles and reset boundaries. And all of us need to be careful not to let social media make us "lazy" – assuming there's no need to meet up in real life because we "know what's going on in other people's lives based on a few posts online".
Commenting on somebody's status update or sending a quick text might be easier, but it's no substitute for the real thing. "Our mobile phones are becoming used as phones less and less. We've stopped talking. The danger is that it's easier to communicate with social media, and ultimately friendships and relationships suffer," Clarke cautions.
Echoing this point, Baird-Wilcock suggests a clear call-to-action: "Take a digital detox day (or even just 60 minutes) away from social media. But first, call your friend – she'd love a cuppa and catch-up with you.
"We should reframe our relationship with social media, see it as a vehicle that helps you bridge closer to IRL (in real life) connections. Social media is NOT the end-game."
Video: How social media impacts our mental health (Press Association)
MSN Loneliness Campaign: Who's affected and how is loneliness being tackled? Learn more and please donate now.