'High heel brows' are happening – and people are giving up
Mirror
08/04/2018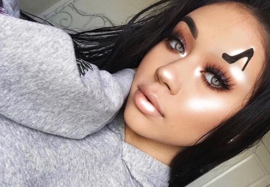 © @skyzeditz/Instagram Eyebrows have taken another unusual turn thanks to one woman who's turned on of hers into a high heel.
It appears @skyzeditz is behind the latest bizarre beauty inspiration, sharing snaps of women with the design. 

The influencer is also behind the infamous fishtail brow, which got people talking. But this is more outlandish.
The unconventional look simply involves manipulating one brow to form a tall stiletto.

One of the women to have a shoe for an eyebrow is beauty blogger Megan Feather. But there are a few others picking up on the latest trend.
On her post, people are divided. "I'm done," wrote one. Another said: "Get some help".
Others pointed out that she's probably just having a bit of fun...