Kate Spade death: What the iconic designer meant to the world of fashion

The Independent
06/06/2018
© Provided by Independent Digital News & Media Limited The fashion world is in mourning after designer Kate Spade was found dead in her New York home aged just 55.

Best-known for her popular line of handbags, the American designer's products were among the most popular accessories in the designer market, competing with the likes of handbag giants Coach and Michael Kors.
Born Katherine Brosnahan, Spade launched her eponymous brand alongside her partner and future husband, Andy Spade in 1993, with the release of the nylon box 'Sam Bag'. Much like Muccia Prada's iconic nylon backpack, The Sam perfectly aligned with understated Nineties inconspicuous consumption and the prevailing American Sportswear styles, quickly becoming a fashion staple and making Spade a household name.
Spade's designs were characterised by their simple construction which made them practical and versatile, but it was her whimsical, bright styles for which she became best known, and which enabled the brand to expand into ready-to-wear and later home ware, fragrance and even tech, launching hundreds of branches across the globe.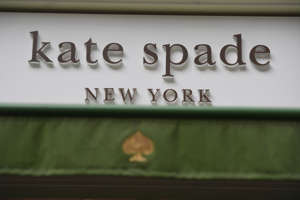 © Victoria Jones/PA Wire/PA Images A sign for a Kate Spade shop in Covent Garden, London Her playing card logo became instantly recognisable. In 1996 she was awarded the Council of Fashion Designers of America's prestigious New Fashion Talent in Accessories award.

In February, she celebrated a quarter of a century in the industry.
But Spade was more than just a creative, as Associate Curator of Costume at The Museum at FIT, Emma McClendon says, "she was a savvy entrepreneur who built a line of handbags into a global brand."
The Spades met whilst working at clothing store when they were students and went on to launch the Kate Spade brand together, before marrying in 1994. In 1999, the couple sold their majority shares in the brand to the Neiman Marcus Group. In 2006, they sold the group their remaining shares, removing their involvement in the company, before going on to launch new accessories brand, Frances Valentine, in 2016. The couple's net worth is estimated to be at $200m at the time of writing.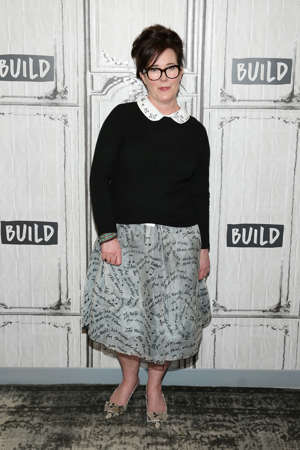 © (Photo by Monica Schipper/WireImage) Kate Spade attends Build Series Presents Kate Spade and Andy Spade Discussing Their Latest Project Frances Valentine at Build Studio on April 28, 2017 in New York City. Her proudly feminine pieces including her popular polo shirts and bell skirts brought high-end fashion to a younger audience and an American nostalgia to fashion, setting Spade apart from the leading designers of the time. The brand developed into a fashion empire, launching hundreds of branches across the globe.
"Her passing marks a loss for the industry, a designer synonymous with a youthful, playful, and distinctively preppy approach to Americana," says McClendon.
Rebecca Arnold, senior lecturer in the history of dress at the Courtauld Institute of Art, says: "She made a sleek, American idea of accessories available to a wider market. Her designs showed her interest in femininity and a nostalgic but contemporary take on handbags as fashion."
Related: Kate Spade's iconic designs through the years