String theory: Rope sandals are the new it-shoe for summer

Evening Standard
22/07/2018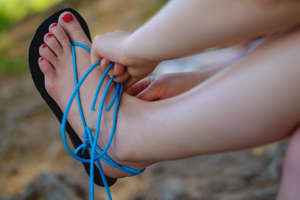 © Provided by Getty If dad trainers and catwalk Crocs have taught us anything, it's that one should never underestimate the power of an ugly shoe.
Behold the Birkenstock. Once polarising, now ubiquitous, the German orthopaedic sandal has found a permanent home on the feet of Londoners who find their unparalleled comfort and curious immunity to fashion trends impossible to resist.
If you're among the many who have spent the past few summers in nothing else — except maybe to dabble in a pair of Teva's hiking sandals — there's a new alt-cool it-sandal vying for your affection.
And it's made from rope.
Championed by grassroots sandal brand Nomadic State of Mind, which started life in the back of a VW campervan in the late Nineties, the vegan-friendly sandals — think part-slider, part-espadrille — are made by hand by a Fairtrade co-operative in Nicaragua entirely from reclaimed polypropylene cord, which is both super-soft and sustainable. What's more, they're lightweight, affordable and durable. They're even machine-washable at 30 degrees. So far, so eco. But their evolution from the soles of the tie-dye-clad classes to the Instagram generation was confirmed when they were snapped up this season by the likes of Urban Outfitters and & Other Stories.
"The rope sandal is one of the most covetable (and Instagrammed!) shoes of the season," says Lizzie Dawson, design director at Urban Outfitters. "Nomadic State of Mind has been hugely successful and a bestseller for us, especially in the khaki colourway, which sold out instantly." She believes that, like our beloved Birkenstocks, much of their appeal is down to versatility. "It's the ultimate, effortless summer sandal, which can be smartened up with a sundress or pared back with a pair of vintage denim cut-offs and a borrowed boyfriend shirt." Currently, Urban Outfitters' stock spans ankle-tie styles and the original braided slides in black and beige, but next week it is expecting a huge delivery to meet demand, which includes a restock of the popular khaki colour.
Meanwhile, & Other Stories has three styles in stock — the knotted Mountain Moma, strappy Toe Joe and classic lattice JC sandals. For the buying team it was the sustainable side that swung it. "We believe that these days, both brands and customers are more in the know when it comes to sustainability and people are interested in what steps we're taking to ensure we're on the right path," says spokesperson Elke Kieft. "Nomadic State of 
Mind has built a very impressive eco-friendly brand and we wanted to bring that to our customers."
Clearly, rope sandals are a common thread on the high street this summer. Topshop is championing a pair in a similar ilk to Nomadic State of Mind, but with a wooden sole and soft suede heel strap, while Warehouse is welcoming its own cherry red, stacked-sole version next week. As for those who aren't ready to step away from the luxury labels, both Valentino and Saint Laurent have high-end takes on the trend — the former, wrap-around satin-rope styles in blush and khaki, the latter with knotted rope and leather soles — while Isabel Marant has a string of rope sandals from cross-over slides to multicolour-braid thongs.
Birken-whats?
Related: Kim Kardashian Just Set a Spring Pedicure Trend (Provided by US Weekly)