Would you pay $17 million for these shoes? World's 'most expensive' heels go on sale in Dubai

Daily Mail
28/09/2018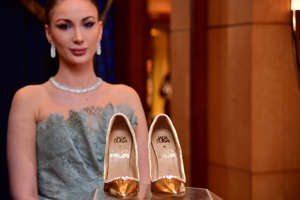 A pair of shoes thought to be the most expensive in the world go on sale today - for $17 million today.
The lavish heels are made from gold patent leather, silk, and embellished with 236 diamonds, as well as featuring a round 15 carat flawless D-diamond center piece at the tip of each shoe.
The 'Passion Diamond' shoes are the second set of showstoppers from UAE-based designer Jada Dubai, who hit headlines earlier in the year for its royal collection, also in collaboration with jewelry brand Passion Jewellers, which included a pair for $286,000. 
Download the Microsoft News app for your Android or iPhone device and get news & live updates on the go.
The one of a kind shoes will be made bespoke to fit the buyer, but a prototype has been created in Italy that will be viewed by just 50 VIP clients at what's billed as the world's only seven-star hotel, the Burj Al Arab in Dubai.
The select group has been invited to the showcase to get a closer view of the shoes, which took nine months to create and even feature real gold labels on the inside.
The stilettos, created with Passion Jewellers, will top the $15 million fetched for a pair of high heels by UK designer Debbie Wingham  — which eventually sold to a Middle- Eastern client who bought them for their daughter.
Speaking about the extravagant design, Hemant Karamchandani, chief executive of Passion Jewellers, which supplied the diamonds for the shoes, said: 'Dubai is the city of millionaires and billionaires, we see it as a potential market, along with the entire (Gulf) region.
Maria Majari, co- founder of Jada Dubai which designed the shoes, added: 'We wanted to create a truly unique piece.
'Jada Dubai designs only shoes with diamonds. For the launch of our second collection, we wanted to create a piece that is truly unique in the world using very rare diamonds. 
'Even inside, the logos of both companies are made out of gold, which is very thin, so it will be very comfortable for walking.'
The prototype is a European size 36 (US 5.5), but the shoes will be custom-made to the client's size -- once he or she has stumped up the full retail price.
The designer's Instagram account, which has a modest following of almost 9,000, shared a video of the shoes to its page racking up 8,000 views. 
And while most comments were from awe-struck followers pining for the fancy footwear, some were less impressed.
'The sheer disconnect between people who can afford to buy these shoes and the rest of the world is mind boggling,' one user commented. 
Dubai, a hub for Gulf fashion and home to the biannual Arab Fashion Week, has seen a growing number of tourists over the last few years, with more than 16 million people visiting the emirate last year.
© Provided by Associated Newspapers Limited
Earlier this year the same brand hit headlines when a pair of shoes went on sale for $286,000, as part of its debut 'royal collection'.
The handcrafted high heels were encrusted with 54 carat white diamonds and 416.2 carat white sapphires, as well as featuring gold and platinum encrusted soles.
According to The National the fancy footwear took more than a year to make, with gold specialists from three countries coming together to craft the masterpieces.
Described as the 'first pair in the world', the shoes are part of the Royal collection by United Arab Emirates-based designer Jada Dubai, which also feature a pair of shoes inspired by Princess Diana and Grace Kelly.
The opulent shoes, which are inspired by a 'legendary love story of a mirage princess named Jada in the desert', are handmade by a single craftsman in Venice.
Among the designer's previous creations are also a pair of stunning red 24-carat heels featuring a crown-inspired ankle strap embellished with 180 carats of rubies and 33 carats brilliant-cut diamonds.
Although no price was given for them, they are described as 'An exceptional creation made for an Arabian Princess from Dubai', and the sole is inscribed with 'For Princess Samira'.
Meanwhile the Grace Kelly-inspired shoes feature delicate black ankle straps and are embellished with a diamond encrusted tiara-style ankle strap. 
'19K yellow gold, platinum, 16 brilliant-cut white diamonds of 0.03 carat, 32 black diamonds of 0.1 carat, semi precious gemstones,' the site describes the lavish pieces, which retail at approximately $5,000.
'Please note that the delivery time is between 3 to 8 weeks, as the shoes are made by a single craftsman in Venice,' the site states.
© Provided by Associated Newspapers Limited The opulent shoes, which are inspired by a 'legendary love story of a mirage princess named Jada in the desert', are handmade by a single craftsman in Venice
And continuing the Royal theme are the 'Princess Diana' shoes', which are described as 'feminine' and 'embodying infinite love'.
Retailing at just over $6,500, they are made of 19K yellow gold and platinum and embellished with 10 brilliant-cut white diamonds and 2,000 citrines, totaling 315.6 carats.
Next up are the Cleopatra shoes, of which there are only ten pieces, and are adorned with a diamond-encrusted snake.
The luxurious shoes retail at almost $4,900 and feature 19K yellow gold and platinum soles, as well as being adorned with four brilliant-cut white diamonds and 28 black diamonds.
Last of the collection are the Josephine shoes, inspired by Napoleon, the Emperor of France and his wife Josephine, and embellished with 19K of yellow gold and platinum, eight rubies and six emeralds, retailing at almost $4,900.
Despite the shoes' jaw-dropping price tag, the world's most expensive shoes were unveiled by British designer Debbie Wingham last October, who created a $15.1 million pair of shoes.
The shoes were commissioned as a birthday gift by an unnamed family and were decked in some of the world's rarest stones.
Featuring rare large pink and blue diamonds, which alone cost more than $13 million, they are also embellished with four flawless three-carat white diamonds and 1,000 pointer diamonds framing some of the iced cake-like detailing.
The design, which took hundreds of man hours to put together, was a collaboration between Wingham and Florida-based contemporary artist Chris Campbell.
Related: Would you wear these unicorn high heels? (Provided by PopSugar)