Wheelchair user angry after reserved area on train is filled with suitcases

The Independent
22/08/2018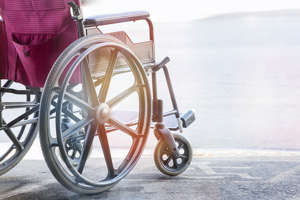 © Getty Provided by Getty

A woman who uses a wheelchair has expressed her dismay after finding her reserved area on a train filled with a pile of suitcases.
Becky Whitworth had been on the way to Doncaster from Dundee with her mother and sister when the incident occurred.
When boarding a connecting London North Eastern Railway (LNER) train in York, Ms Whitworth discovered that the space that should have been kept free for her wheelchair had been taken up by other passengers' luggage.
This is my reserved w/chair space. On a train you put me on 6 hours before I originally booked because there was no room. @LNER your staff are rude and obnoxious this was dangerous. No disabled toilet either pic.twitter.com/kep5SPoHGr

— Becky Whitworth (@bexwhitworth)

August 20, 2018
According to Ms Whitworth, the guards on the train had "no interest in helping", with one acting in a particularly "rude" and "aggressive" manner.
"A guard assisted me onto the train in York, he saw the pile of cases in the reserved wheelchair space and said, 'That's your space, it's ok though,' and squeezed me into the opposite side," she told The Independent.
"As I was only backed up against chairs, my chair was still tipping backwards so my sister had to stand and hold my chair."
Ms Whitworth tweeted a photo of the mound of suitcases, writing: "This was my reserved space today. No disabled toilet either, just rude staff."
She explained that she'd originally booked a different train, but had been made to change her booking due to lack of space.
"We had originally booked a train seven hours later, so we could spend the day in Dundee. However, after an hour long conversation with LNER the only train that had wheelchair space free was the 9.07 train from Dundee," she said.
The railway service booked wheelchair assistance for Ms Whitworth on the new train. However, she, her and mother and sister weren't sent new tickets, which angered the guards on the train.
"The guard was very vocal and demanded to know why we weren't on the right train," she said.
Furthermore, a family who owned the bags in the allocated wheelchair area allegedly simply "stared out of the window" during the whole debacle.
We were told not to move it, as I could back up against a chair... had to get my sister to hold me in place as kept tipping. The family whose bags this were just stared out of the window.

— Becky Whitworth (@bexwhitworth)

August 20, 2018
Yep, spent an hour on the phone while they found a train that the disabled space wasn't fully booked, then this happens. 😡 so the tickets were the wrong time which caused the guard to need to see the paperwork as to why the tickets were wrong, he was so rude/aggressive about it

— Becky Whitworth (@bexwhitworth)

August 20, 2018
It's so bloody frustrating! I wish people would realise that is literally the only place on the train we can sit and be safe. Imagine the chaos if we parked our chairs about like they did with luggage?

— Becky Whitworth (@bexwhitworth)

August 21, 2018
After writing about her experience on Twitter, Ms Whitwork has received numerous messages of support from people who can't believe the treatment that she received.
"Makes my blood boil. Absolute ineptitude and downright laziness," one person tweeted.
Makes my blood boil. Absolute ineptitude & down right laziness. Not a day goes by where I'm so grateful I drive & don't have to rely on public transport. I dread the days I have to use it. Disgraceful

— Adam (@83Rijk) August 20, 2018
Another described the situation as "Shocking. Disgraceful. Selfish."
Ms Whitworth explained that booking a train can be complicated when in a wheelchair, as the reserved spacing can be limited.
"A disabled person has to pre-book assistance with ramps and to reserve that space as there's only one wheelchair allowed at a time," she said.
"So to get on a train you didn't originally want to be on and then the space you'd spent hours booking was full and the staff didn't do anything to help was very frustrating."
LNER has responded to Ms Whitworth following her complaints, inviting her to meet with LNER customer relations manager Michael Ross to discuss the events that occurred.
A LNER spokesperson told The Independent: "LNER is committed to providing an excellent service for all our customers and we take the experience of less able passengers very seriously.
"We are in contact directly with Ms Whitworth and are fully investigating the matter."
Search on Bing:
More about London