20 fun wedding ideas guaranteed to make your day stand out

The Telegraph
21/02/2019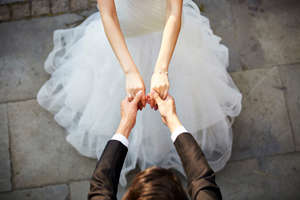 Never has the desire to make weddings unique been so prevalent. We can add this to the list of things to blame on social media... Every couple is keen to have a 'wow' moment, something different their guests have never seen before and of course something that'll make a great picture for their Instagram accounts. You thought getting married was about love, romance and commitment? Nope. It's all about the visuals kids and don't you forget it.
So how, in the age of everything being posted online, can you create a wedding day that'll be talked about for years to come? That'll be sure to inspire Insta envy and a serious amount of likes? Don't worry, not everything has been done to death and there are loads of ways to make every element of your day into a memorable moment.
So whether you're struggling to be creative or just need a little something extra to blow them all away, we've rounded up 21 fun, adorable, quirky and stylish ideas to get your started.
1. A wedding piñata
Slicing your cake together as newlyweds is so over. Grab a stick and smash a piñata to pieces instead.
No longer the preserve of children's parties, you can have a piñata made into any design and have it filled with anything you fancy too. Opt for ticker tape or streamers in your colour theme, sweets or any lightweight favour that your guests can take away with them, or enjoy there and then. You can do the ceremonial 'first smash' before handing the baton over to the wedding party, or just use it to release all your built up wedding stress.
Piñatas London will take on almost any commission, no matter how crazy.
2. Pick a song, any song
We all know the best bit of any wedding is when the dance floor fills and the crowd goes wild. Fuelled by Champagne and good vibes, it's when everyone lets loose and even the worst dancers can feel like Beyoncé. So why not make it even more fun for your guests by letting them help build the playlist? Simply include a request for song choices on your RSVP cards, should you be sending them with the invitations, or add it to the information on your wedding website. And just pray they don't all ask for Valerie or Mustang Sally. Yawn...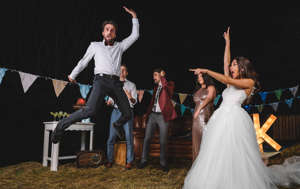 3. Let your pageboys and flower girls be kids
There's nothing sweeter than flower girls and pageboys, especially if one of them does something naughty during their walk down the aisle. And there's no denying they'll look adorable in child size versions of the grown up bridesmaid dresses or ushers' suits, but why not let them be the children they are? You could let them choose their own outfits (can you even imagine?) or pick out something a bit more fun like a superhero costume or other funny fancy dress. You wanted brilliant images for Insta? A mini batman ring bearer will do it.
4. Keep the kids entertained
Sticking to the theme of your youngest wedding guests, if you've got children on the list then both you and their parents will be grateful if some entertainment has been organised. This way the adults will get to have a good time as well as the little ones.
So consider booking a wedding creche or nanny, a children's entertainer, having a playroom specifically for the kids and providing puzzles, games and personalised colouring books at their places, instead of the favours you've organised for everyone else. 
5. Keep the adults entertained
Sometimes it takes more than copious amounts of alcohol to keep the adults entertained while you have your pictures taken. The wait between the ceremony and the wedding breakfast can seem interminable so give them something to do. If your drinks reception is outside then set up giant versions of legendary games like Connect 4, Jenga, Pick Up Sticks and dominoes, all available at Uber Games. Or bring out the swing ball, a croquet set, or how about a coconut shy? There's even scope to organise a mini sports day with sack, egg and spoon and three legged races. Delegate the organisation to an usher or bridesmaid.
6. Forget floral displays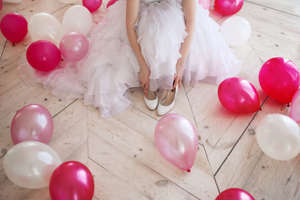 If you want to give your wedding some design edge then you might want to forego the flowers. For the ceremony, replace the traditional floral arrangements at the end of each aisle with giant colourful balloons and use them instead of floral centrepieces for your reception tables. We don't mean a pack of ten you buy at the local party shop. We're talking about seriously gorgeous and showstopping balloons. Head to The Giant Balloon Company where you'll find a stylish selection; some with festive tassels, some filled with confetti and some that spell out the word 'love'. You can even ask your guests to release them at the end of the night. Dreamy.
7. Don't leave the dog at home
We love our pets as much (if not more) than our families. So why would you exclude them from the most important day of your life?  Buy them a cute little bow tie or special ribbon for their collar and have them walk you down the aisle. A well behaved pooch could even be the ring bearer. Kitsch? Definitely. But do dogs make everything better? Without a doubt.
8. Make your guestbook more interesting
Instead of having your guests leave a message in a boring old leather bound guest book (snore), do something a bit more fun. You could set up a video booth where they can record their good wishes in a style of their choice; preferably with some singing and dancing. Or provide a Polaroid camera to capture each guest and ask them to write a message on the bottom, before adding it to an empty photo album. Not only will it be a more enjoyable for your friends and family, but you'll love looking back at them for years to come.
9. Go wild with glitter
You don't need to be a regular festival goer or Ibiza babe to appreciate the joy of glitter. Given the opportunity many formerly staid and sensible adults will happily douse themselves in sparkles, so why not bring that spontaneous excitement to your wedding reception? Set up a glitter station in one corner complete with mirrors, adhesive (available from most high street make-up brands) and of course pots of shimmering glitter in a rainbow of colours (preferably biodegradable like Eco Stardust). We guarantee everyone from the flower girls to the father of the bride will be dazzling by the end of the night. Be aware you'll need to clear this potentially messy activity with the venue first... 
10. Join the street food movement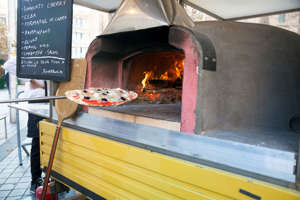 These days you can't move for food trucks. But they're everywhere because we all love them. The fact you can get totally delicious comfort food served up in a traditionally formal setting has widespread appeal, so whether you opt for a pizza van, burgers, a taco truck, waffles or fish and chips, you'll have plenty of grateful guests who need a top up before heading back to the dance floor.
11. Build a bonfire
On the subject of late night snacking, if you're not into the whole street food thing then build a bonfire or hire a couple of fire pits. Gather your guests around them to toast marshmallows, light sparklers and serve mulled wine to up the cosy factor by a hundred.
12. Get back to childhood
You may be in your wedding finery but even the most sophisticated of grown ups can't resist a bouncy castle. If your wedding venue has large enough grounds then hire an inflatable fun palace and watch it fill up as your guests steadily consume glass after glass of champagne. And you don't have to get a cartoon or fairy tale castle theme, unless you want to that is. Hire a chic white bouncy castle from A Wedding Wonderland or The White Bouncy Castle. Just don't forget to take your shoes off.
13. Get social
Wedding hashtags have become huge in the last few years and with more and more of us living our lives on social media, it's one trend that's set to stay. Ask your guests to use it to tag any pictures they post of your wedding day and you'll be able to pore over loads of great informal shots to compliment the official ones taken by your professional photographer. Try to be original though otherwise you'll find yourself trawling through pictures of other people's weddings. If you're struggling to come up with anything more exciting than #smithwedding then you can always commission a hashtag creator to come up with something bespoke and brilliant.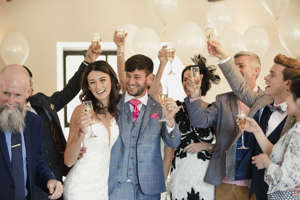 14. Chill out
Weddings can be a bit exhausting and not just for the bridal party. So give your guests somewhere relaxing to take it easy when they've had enough of the heavy bass on the dance floor. Use beanbags, hay bales, garden furniture, huge cushions, rugs, candles, low tables and lanterns to create a chill out area. You can even have a speaker playing Ibiza sunset tunes to really nail the vibe. This might also be a good spot for any elderly relatives to hang out and catch up too, far away from the throbbing masses and too loud Rihanna.
15. Cancel the confetti
Confetti is a bit 1970s but the tradition of guests throwing something pretty over the newlyweds is still a popular one. So be a bit experimental and provide a more interesting alternative for your guests to chuck at you. Consider glitter or fragrant lavender. Or be even more adventurous and give them mini bottles of bubbles to blow or tiny bells to ring as you walk back down the aisle with your beloved.
16. Light up
When the sun goes down there's nothing like atmospheric lighting to help create a mood. You'll no doubt have seen light up letters at various events and they do make a gorgeous backdrop for photos, but if you want to add a bit of edge why not feature a neon sign in your decorations? Bag & Bones will create a custom design which you can then display in your home after the big day, or spend less by hiring one of their existing pieces.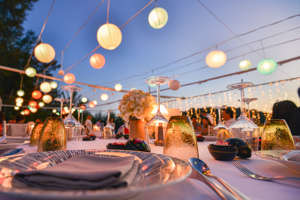 If you're having a fashionable weekend wedding then you'll need even more cool ideas to make your nuptials go with a bang. So consider including some of the following across your three day extravaganza. 
17. Welcome baskets
Make sure your guests feel really taken care of with a welcome basket or gift box. Fill it with essentials like water, mints, biscuits and chocolates, adding in any locally produced food from the location of your big day. It's also useful to include the itinerary for the weekend so everyone will know where to be and when.
18. Do Not Disturb
After some late night partying your guests will no doubt want to be left alone to sleep it off, so have fun creating your own Do Not Disturb door signs. You can download a template from Etsy and personalise it using your own computer. Not only a cute idea but a cheap one.
19. Before and after
For a three day wedding you'll not only need to organise the main event but also a first night soirée and a post-wedding shindig. So get creative with more informal gatherings and less traditional food and drink. For night one why not host a barbecue, Hawaiian Luau, pool party or paella night? Theme it however you like and match the catering to the decoration. For the day after the wedding, we suggest a farewell brunch. Bloody Marys, Mimosas, French toast and granola will keep the fun going and help everyone get over their hangovers. 
20. Keep them busy
The organisational to do list doesn't stop there we're afraid. If you've corralled all the most important people in your lives into one place for 72 hours, then you'll need to fill some of the time in between parties. So plan one or more activities to keep them entertained. Perhaps an early morning yoga class, a cooking class, clay pigeon shooting or how about a scavenger hunt around the grounds or local town? They'll be able to see a bit of the area and if it's a place dear to your hearts, you can ensure they see all your favourite spots.
Gallery: 11 tips for getting amazing wedding photos, according to experts [INSIDER]