How a #MeToo Scandal Led to Calls for a Boycott of Topshop

Fortune
26/10/2018
Watch: Who is Sir Philip Green? (PA)
After its billionaire owner was named in a sexual harassment scandal, clothing chain Topshop is facing boycotts.
© David M Benett—Getty Images (L to R) Tina Green, Sir Philip Green and Chloe Green attend the Fashion for Relief cocktail party during the 70th annual Cannes Film Festival at Aeroport Cannes Mandelieu on May 21, 2017 in Cannes, France. (Photo by David M Benett—Getty Images) The Telegraph reported Tuesday on a leading British businessman accused of sexual and racial abuse by five former employees, but said a court injunction prevented it from naming him in a case that would "reignite the #MeToo movement against the mistreatment of women, minorities and others by powerful employers." Lord Peter Hain then decided it was in the public's interest to reveal the accused, and in a session of Parliament Thursday he named him: Philip Green, the chairman of Arcadia Group Ltd., which owns Topshop.
Related: Kiss goodbye to the yacht? The wife (and shoppers) who could end up costing Philip Green billions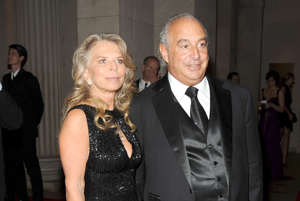 Related: MPs call for Green to be stripped of knighthood
The businessman had used non-disclosure agreements, which the court said justified the injunction that gagged The Telegraph. Yesterday Prime Minister Theresa May pledged to improve regulation around so-called gag clauses in response to questions about the case. She criticized "abhorrent" sexual harassment in the workplace and said some employers were using non-disclosure agreements "unethically."
Download the Microsoft News app for your Android or iPhone device and get news & live updates on the go.
Scarlett Curtis, the author of Feminists Don't Wear Pink and Other Lies, began using the hashtag #pinknotgreen to rally support when her book launch at a London Topshop was canceled. The Guardian reports the pop-up in cooperation with her publisher, Penguin, was scrapped just minutes before the event after Green saw it. Topshop later apologized and made a £25,000 donation to the charity Girls Up, saying the incident did not reflect its stance on feminism. Curtis and her supporters believe the action reflected Green's personal stance on feminism, and they're now using #pinknotgreen to rally a boycott.
This man clothed our country.

This man dressed our teenage girls.

This man is a racist, sexist bully.

This man made me cry.

This man must be stopped. Philip Green, money can't save you.

The feminists are coming & they're wearing pink #pinknotgreen https://t.co/x9SYI6YhU9

— Scarlett Curtis (@scarcurtis) October 25, 2018
Topshop was my favourite shop when I was a teenage girl. I feel disgusted that this awful man has been literally dressing the women and girls of this nation for years. #pinknotgreen https://t.co/ST0KHmx5bZ

— Rachel Thompson🧜‍♀️ (@RVT9) October 25, 2018
In addition to Topshop and Topman, Arcadia Group also owns clothing chains Burton, Dorothy Perkins, Evans, Miss Selfridge and Outfit and employs about 20,000 people in dozens of countries. Lately the company's finances haven't been so rosy: Private parent company Taveta Investments reported that year-over-year sales dropped 5.6% and profits dropped 42% in the past fiscal year. Green is worth about $2.7 billion, according to the Bloomberg Billionaires Index.
Green has been embroiled in scandal for years over his management of U.K. department store chain BHS. He made a fortune in dividends while the employee pension fund was hundreds of millions of pounds in the red. In 2015, Green sold the troubled business for one pound and company subsequently collapsed. Lawmakers unsuccessfully demanded revocation of Green's knighthood, calling him the "unacceptable face of capitalism." In 2017, he agreed to pay as much as £363 million ($465 million) to fund his former employees' pensions.