Hundreds of jobs lost as Monarch airline's engineering arm goes into administration

Indy 100
04/01/2019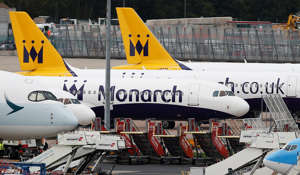 The engineering arm of collapsed airline Monarch has fallen into administration, with the loss of 450 jobs.
Administrators from KPMG were called in after Monarch Aircraft Engineering ran into financial difficulties, just over a year after Monarch went bust.
The engineering business was bought by private equity firm Greybull Capital following the collapse of previous parent company Monarch. It was the last remaining working part of the failed airline. 
Download the Microsoft News app for your Android or iPhone device and get news & live updates on the go.
However, KPMG said the business had become "unsustainable in its present form" after a restructuring last October led to an exodus of customers. 
David Pike, restructuring partner at the professional services firm, said: "Following the administration of other Monarch entities in 2017, MAEL sought to build its customer base to replace the loss of business from the former airline.
"Through the insolvency of the airline however, the company inherited significant debts and claims. Every effort has been made to turn around the business, including launching a CVA which sought to resolve these legacy debts.
"Unfortunately, following the CVA, a number of customers reduced or sought to terminate their relationship with MAEL, further adversely impacting the business."
© Provided by Independent Digital News & Media Limited KPMG said it is seeking buyers for the firm's fleet technical support division, which employs 27 people, and its training academy, which employs 53 people. 
Mr Pike added: "While it is pleasing agreements with a number of operators have been secured to ensure continuity of service at the majority of MAEL's line maintenance stations, with only partial offers forthcoming for the rest of the business, the directors have taken the difficult step to appoint administrators.
"We will also be making every effort to provide support to those employees who have been affected by redundancy. As following the failure of the airline, employment fairs will be held in the coming days in Luton and Birmingham, to help these employees secure new roles."
Additional reporting by news wires
Related: 15 companies facing a make or break 2019 (Lovemoney)