Marks And Spencer Confirms 100 Stores Will Close By 2022

HuffPost UK
22/05/2018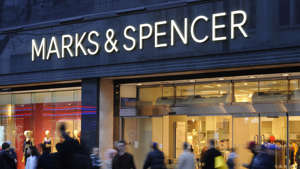 Marks & Spencer is to significantly scale back its UK store expansion and close a hundred shops in the next five years, the firm announced on Tuesday.
The company will close the 100 stores by 2022 as it accelerates what it described as a "transformation programme".
M&S has faced tough competition from online competitors amid flagging sales of its clothing, especially among young consumers.
The London-based firm announced 14 stores are earmarked for closure before the end of 2019, potentially affecting hundreds of staff.
The stores immediately impacted are:
Closed by July 2018
Bayswater,
Fleetwood Outlet 
Newton Abbot Outlet
Early 2019 (replaced by nearby food stores)
Clacton, London
Holloway Road, London
Uncertain, before end of 2019
Darlington,
East Kilbride,
Falkirk,
Kettering,
Newmarket,
New Mersey Speke,
Northampton,
Stockton
Walsall
These stores are proposed for closure and will now enter a period of consultation with all 626 affected employees, the company said.
Watch: Why is M&S closing stores? (ITN)
"Should these stores close, all colleagues would be redeployed or offered redeployment at other stores before redundancy is considered," a press statement added.
Sacha Berendji, Retail, Operations and Property Director at Marks & Spencer said: "We are making good progress with our plans to reshape our store estate to be more relevant to our customers and support our online growth plans.
"Closing stores isn't easy but it is vital for the future of M&S.
"Where we have closed stores, we are seeing an encouraging number of customers moving to nearby stores and enjoying shopping with us in a better environment, which is why we're continuing to transform our estate with pace."
It comes after high street giant New Look announced similar plans to cull stores and as retailers struggle to keep physical shops open amid a "perfect storm" of pressures, including a weakened pound, inflation, rent increases and reduced footfall.
NOW SEE: Hell on the high street - the big brands in danger of disappearing (Lovemoney)