No Deal Brexit 'Disaster' Fears As Mark Carney Warns House Prices Could Drop By One-Third

HuffPost UK
14/09/2018
MPs have warned that Theresa May is leading the country towards "economic disaster" after Mark Carney reportedly told Cabinet ministers that house prices would fall by 35% if the UK leaves the EU without a deal with Brussels. 
According to the Times, the governor of the Bank if England briefed senior Tories on Thursday that a chaotic no-deal Brexit would lead to spiralling mortgage rates crashing the housing market, with house prices expected to drop by more than a third over three years.
Carney also told ministers that the Bank of England would not be able to offset the economic chaos by cutting interest rates as it did after the 2016 EU referendum, the Financial Times reported.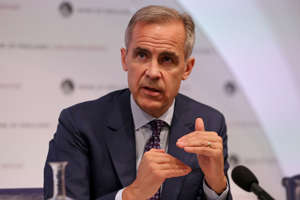 Download the all-new Microsoft News app – available now on iOS and Android
Lib Dem MP Tom Brake, who works with the anti-Brexit group Best for Britain, said Theresa May would "rue this day", warned that the "party of the property-owning democracy" was now hurting its own voters.  
"We are now six months away from Brexit and people up and down the country are fearful for what the future brings. No-deal Brexit or even the Prime Minister's potential deal will leave Britain poorer, weaker and more isolated," he said. 
May's decisions on Brexit "threaten to tear the Tories asunder", Brake added. 
His comments come after the Prime Minister chaired a special Cabinet meeting on the latest Brexit preparations, with Carney's reported presentation part of the proceedings.
The government also published its latest contingency plans for a no-deal Brexit, including fears that crashing out of the EU could limit the UK's ability to spot space debris crashing to Earth.
Gallery: Inside David Walliams' London townhouse also once owned by Noel Gallagher (Lovemoney)