Tory Rebels Publish Rival Brexit Plan to Challenge Theresa May

Bloomberg
24/09/2018
Pro-Brexit politicians in Theresa May's Conservative Party launched a rival plan for leaving the European Union in an effort to force her to ditch her own blueprint in favor of a cleaner break with the bloc.
Former Brexit Secretary David Davis, who quit in July because he disagreed with May, is backing the proposal published by the Institute of Economic Affairs think tank, which recommends preparing a "more aggressive" strategy for the EU negotiations, and opening trade talks with other countries around the world.
It's unfortunate timing for May, who heads into a potential Cabinet showdown later Monday. How the prime minister emerges -- further weakened or limping on -- is a key question after last week's bruising put-down by European Union leaders. Her defiant response on Friday has given her little respite, with speculation about challenges to her leadership and the Sunday Times reporting plans for a possible snap election in November.
Download the Microsoft News app for your Android or iPhone device and get news & live updates on the go.
Meanwhile, in Liverpool, the main opposition Labour Party is creating a different kind of Brexit problem for the prime minister by leaving the door open to supporting a second referendum on Brexit. It's something that May gets asked repeatedly and on Friday outright rejected.
📰 NEW: #PlanAPlus: Creating a Prosperous Post-Brexit UK, @ShankerASingham and Dr @RadoTylecote argue that, to break through the impasse, the Government needs to bring a new vision; one that puts them in context of the national and global opportunities! https://t.co/GZtOyGh0l3

— IEA (@iealondon) September 24, 2018
'All Options'

Delegates at Labour's annual conference will vote Tuesday on a motion that reads: "If we cannot get a general election, Labour must support all options remaining on the table, including campaigning for a public vote."
The group campaigning for a second referendum said it represents "clear movement" from the Labour Party toward another vote, though Shadow Chancellor John McDonnell said in a Bloomberg TV interview on Monday there would be no option to stay in the EU.
Related: Hedge funds 'scent Brexit blood'
"We will respect the referendum result that took place, but if we can't get a general election we'll campaign for a people's vote, and in that people's vote people will be able to make a decision on the deal the government has brought back," he said, adding that he doesn't expect May to deliver an agreement that Parliament would approve.
#PlanAPlus by @ShankerASingham & @RadoTylecote sets out how the UK can trade prosperously with the EU and the rest of the world. The PM should embrace it, abandon Chequers and go for a wide-ranging Free Trade Agreement as part of global strategy now. https://t.co/v5MjuNE0Rk

— Owen Paterson MP (@OwenPaterson) 24 September 2018
The TL:DR summary of the IEA report #PlanAPlus - don't sign up to EU rules through Chequers or EEA, we need to be able to sign up to US food rules to get trade deals. We can't say what impact this will have on the economy. Surprised actually it is so clear on the choice. https://t.co/ygxe0uXoN2

— David Henig (@DavidHenigUK) September 24, 2018
At Monday's Cabinet meeting, ministers are expected to discuss a range of issues including what immigration policy the U.K. should adopt after Brexit. According to a person familiar with his thinking, Home Secretary Sajid Javid will set out a plan for a system in which immigrants are given visas on the basis of skills or wealth.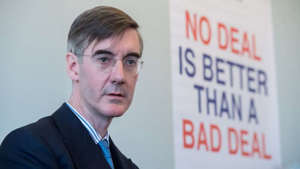 © Bloomberg Jacob Rees-Mogg: A firm supporter of IEA's Brexit plan
Immigration
Preference would be given to people from countries with which the U.K. had a free-trade agreement, said the person, who asked not to be identified because the plans are confidential.
Given the setback at the EU summit in Salzburg, May could be given a hard time by those ministers who want more distance from the bloc. It remains to be seen if they rally around her or mount an attack. The Daily Telegraph reported Monday that a majority of the Cabinet now supports moving toward a Canada-style trade deal.
Pretty astonishing @iealondon's supposedly comprehensive, 150-page long plan has literally absolutely nothing to say about post-Brexit immigration policy.

[*except it should be "comprehensive and sensible".] https://t.co/BKj5KK64XT

— Jonathan Portes (@jdportes) September 24, 2018
In a week's time, the Conservatives will hold their own annual conference, where the topic of Brexit will once again dominate.
Ahead of that meeting, Brexiteers published their own proposal Monday. To unblock negotiations, the U.K. could propose a stripped down "basic free-trade agreement" with the EU for goods, allowing more time to work on a better deal during the two-year transition period that will follow Brexit day in March, according to the plan.
'Opportunity'
"The opportunity before the U.K. as a result of Brexit is huge: but if we squander it, the 'new normal' of limited economic growth will prevail, with an EU system that is failing to respond to the challenges of the modern economy," it said. "The U.K. running its own economy will not render a deal with the EU impossible. It will bring back real growth, let the U.K. do other trade deals, and create leverage to get positive results from EU negotiations."
The study, titled "Plan A+ -- Creating a Prosperous Post-Brexit U.K.," will add fuel to the Tory revolt against May's so-called Chequers plan for a close "free-trade area" with the EU. Davis and former Foreign Secretary Boris Johnson both quit the Cabinet in July because they believed May's proposal was fatally flawed and would tie the U.K.'s hands.
Instead, they've both argued for a more streamlined agreement based on the EU's recent deal with Canada. May says this isn't good enough and would put jobs and peace in Northern Ireland at risk. But her own plan is in trouble after EU leaders rejected key parts of it at a summit last week in Salzburg.
The Institute of Economic Affairs report was written by Shanker Singham, director of the IEA trade unit and an influential adviser to pro-Brexit Tories, and it's supported by senior Conservatives including Jacob Rees-Mogg, chairman of the party's euroskeptic European Research Group.