UK will be 'unequivocally pro-business' after Brexit, Theresa May tells American investors

The Independent
26/09/2018
Watch: May says UK will have lowest corporation tax in G20 (Bloomberg)
Britain will be "unequivocally pro-business" after it leaves the European Union, Theresa May has promised investors.
The prime minister told the Bloomberg Global Business Forum in New York that the UK will be the low tax, high-skilled place to invest after Brexit.
Speaking days after EU leaders rejected her plans for future trading relations, Ms May insisted she is "confident" a deal can be reached.
© Provided by Independent Digital News & Media Limited She said the UK has a plan to create an economy which is appealing to investors across the world, with corporation tax the lowest among leading industrialised nations.
"The lowest rate of corporation tax in the G20" or "Off-EU tax haven"? pic.twitter.com/OUg4AM92IS

— Peter Hoskins (@PeterHoskinsTV) September 26, 2018
Theresa May pledges to slash taxes to lowest rate in G20 to make Britain a post-Brexit economic powerhouse ' | via @telegraph https://t.co/bm2UX29w23
Will really make EU27 concerned regarding post-Brexit level playing field & probably not deliverable without income tax hikes.

— Fabian Zuleeg (@FabianZuleeg) September 26, 2018
The UK already has the lowest corporation tax rate in the G20 (19%) and George Osborne announced the further cut to 18% in 2020 in his 2015 budget.

So she's re-announcing a three year-old policy and making it out to be a response to Brexit? pic.twitter.com/Eqo7WwzqV0

— Jon Stone (@joncstone) September 25, 2018
"My message today is that a post-Brexit Britain will be an unequivocally pro-business Britain," Ms May said.
Corporation tax in the UK is 19 per cent but will fall to 17 per cent under Conservative manifesto plans, the lowest rate in the G20 group of industrialised nations.
Ms May has frequently clashed with Jeremy Corbyn over the issue of low taxation post-Brexit, during heated Prime Minister's Questions sessions.
Also on Wednesday, Mr Corbyn denounced "greed is good" capitalism at the Labour conference in Liverpool.
Ms May said the UK wants to forge the most dynamic and ambitious free trade agreements with "old friends and new allies alike".
Watch: 'UK could need a "Greece moment'" to wake up to realities of Brexit' (CNBC)
"Crucially we also have a plan to deliver an economy that is knowledge-rich, highly innovative, highly skilled and high quality but with low tax and smart regulation," she added.
"So let me say this bit very clearly. Whatever your business, investing in a post-Brexit Britain will give you the lowest rate of corporation tax in the G20.
"You will access service industries and a financial centre in London that are the envy of the world, the best universities, strong institutions, a sound approach to public finance and a consistent and dependable approach to high standards but intelligent regulation."
Ms May, who was dealt a humiliating blow at a summit of EU leaders in Salzburg last week when they rejected her Chequers blueprint for post-Brexit relations, insisted there is no other plan that respects the result of the referendum and resolves the Irish border issue.
"Our relationship with the EU will change with Brexit. But we will still be neighbours, we will still be part of the European family of nations, and we will continue to champion the same beliefs – standing for freedom, democracy and the rule of law, underpinned by a rules-based global order," she said.
"This is why I am confident we can reach a deal about our future relationship that is built in this spirit."
She also insisted there is "no other plan" that meets all the of the UK's Brexit red lines in the way Chequers will.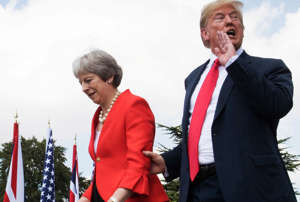 Ms May is attending the United Nations General Assembly, where she is scheduled to meet with Donald Trump on Wednesday evening to push for a post-Brexit trade deal.
Such a trade deal is considered an important way for Ms May to help offset the economic impact of leaving the EU in March next year. It was high on the agenda when the prime minister ensured she was the first foreign leader to visit Mr Trump in Washington following his inauguration last year.
Support from the US president could boost Ms May's struggle to win over her critics, who have argued her exit plan is unworkable.
On Tuesday, she said a general election before Brexit would not be in the national interest.
Speaking to reporters as she flew to New York for a meeting of the United Nations General Assembly, Ms May said: "What I'm doing is working to deliver a good deal with Europe in the national interest. It would not be in the national interest to have an election."
She also staunchly rejected a second Brexit referendum.
Additional reporting by agencies